We're the ICM Team.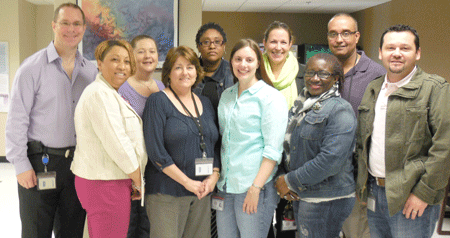 ICM stands for
"Intensive Case Mangement,"
and it means "help."
We can help you get:
Medical care
Benefits like food stamps, general relief and SSI/SSDI*
Employment and training
Transportation
Legal help
Personal ID and other documents
Housing
Clothes, food, other supplies
Supports for mental health/substance use disorder recovery
*Supplemental Security Income/Social Security Disability Insurance
How does the ICM team work?
We come to you – you don't have to come to us.
We work as a team. You are part of the team.
We provide services tailored to your recovery needs.
"Now I can help others." – Gracia had a history of homelessness, but with help from ICM she found a home and resources to support her recovery. Gracia is now able to give back and helps others in the community whose struggles she understands.
"I wasn't well, and I needed help." – Julia had no home, no income, no health care and few social supports. ICM staff helped her apply for public assistance, and she agreed to collaborate with a psychiatrist. ICM helped Julia find housing and employment, learn how to budget and use public transportation. She began participating in social outings, and – with ICM support – reengaged with her family for the first time in years.
More about ICM
Each team includes medical, mental health and substance use disorder professionals. They know that, with a little help, people can and will draw from their own strengths to overcome challenges in their lives.
More about the CSB
The Fairfax-Falls Church Community Services Board (CSB) provides services for people with mental illness, substance use disorders, and developmental disabilities.