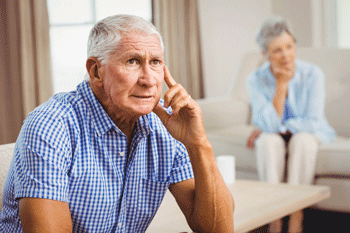 If you are an older adult and depression becomes your new normal, it is important to know that depression is NOT a normal part of aging.
Depression in older adults can be difficult to recognize. Sometimes sadness is not the main symptom. Symptoms can include fatigue, trouble sleeping, confusion and irritability.
Grief is not the same as depression. However, when grief lasts a long time it may become depression.
Medical conditions can cause depressive symptoms, and medications sometimes have side effects that contribute to depression.
If you think you may be depressed, it is important to know that help is available, treatment works and people do recover!
Find your Community Services Board
If you are concerned that you or someone you know is depressed, call your Community Services Board for guidance and resources.
Alexandria Community Services Board
703-746-3400 (TTY 711)
Arlington Community Services Board
Senior Adult Mental Health
703-228-1700 (TTY 703-228-1788)
Fairfax-Falls Church Community Services Board
703-383-8500 (TTY 711)
Loudoun County Community Services Board
Mental Health, Substance Abuse and Developmental Services
703-771-5155 Access (TTY 711)
703-777-0320 Emergency Services (TTY 711)
Prince William Community Services
703-792-7800 – Manassas (TTY 711)
703-792-4900 – Woodbridge (TTY 711)