For Immediate Release
August 30, 2021
Fairfax County Department of Transportation (FCDOT) has joined the Washington Metropolitan Area Transit Authority (WMATA) in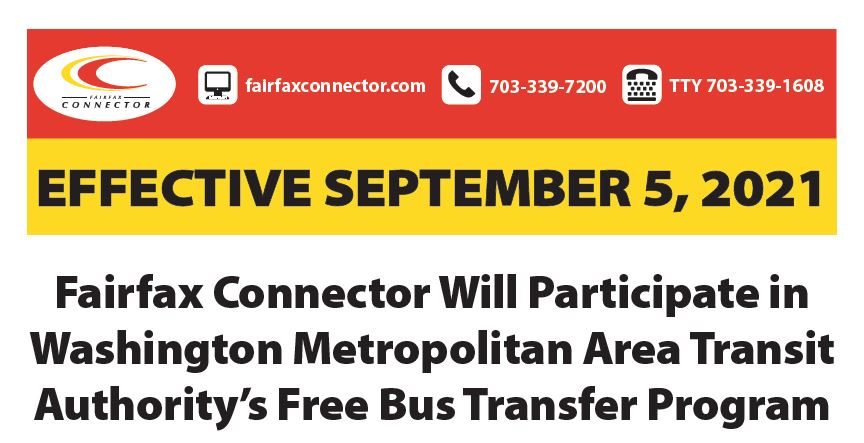 providing free transfers between Metrorail and Fairfax Connector buses.  When transferring, bus rides will now be free for all routes except Fairfax Connector Express Service, which will be discounted $2 from the total fare when using a SmarTrip card or the SmarTrip App.  Through this new program beginning September 5, WMATA and Fairfax Connector are making it easier for people to return to transit as they resume their commutes and travel.
The transfer also begins Sept. 5 for the  Wolf Trap Shuttle - Route 480 - that operates between the West Falls Church Metrorail Station and Wolf Trap.  The regular shuttle fare is $5.00 but with the transfer the fare is $3.00 round trip. Fairfax Connector's fares and policy information has been updated.
For additional information about Metro's discount fare program and other service changes, visit wmata.com/changes.
Fairfax Connector would like to remind passengers that they must wear a mask or a face covering, as now mandated by federal law, when taking public transit or visiting an indoor transit hub in Fairfax County. If a passenger is not wearing a mask or a face covering when entering a Fairfax Connector bus, one will be provided, if available. 
Learn how Fairfax Connector's operations contractor works to maintain a safe and healthy environment on buses.