WHY CHOOSE AN ELECTRIC VEHICLE?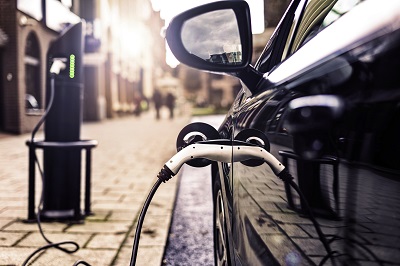 EVs come in all shapes and sizes and are evolving at a fast pace. Although EVs can have higher sticker prices than their gas- or diesel-powered counterparts, they can actually save drivers money over the long-haul. Studies show that, due to reduced fuel and maintenance needs, EV drivers can expect to save $6,000-10,000 over the lifetime of the car, with certain models offering even higher savings.
EVs are a great option for those who want to reduce their environmental impact. Walking, biking and using public transportation are the most environmentally friendly ways to travel, but aren't always feasible. If you rely on cars or light-duty trucks to get around, buying or leasing an electric alternative is one way you can reduce your carbon footprint.
Fully electric and plug-in hybrid EVs are more fuel efficient and produce no tailpipe emissions when operating in electric-only mode. As part of the Community-wide Energy and Climate Action Plan, the Office of Environmental and Energy Coordination (OEEC)estimates that switching from gas-powered to electric vehicles could lead to reductions of 2.04 million metric tons of greenhouse emissions across the Fairfax County, helping us achieve 19 percent of the 2050 carbon neutrality goal.
TYPES OF ELECTRIC VEHICLES
When considering EVs, there are two types to choose from. Within these two categories, there are number of vehicle makes and models. The number of models available nationwide continues to grow as manufacturers commit to EVs. Types of EVs available for sale in Virginia are also expected to grow now that the state has adopted California's Advanced Clean Cars Program, with new regulations affecting vehicle model year 2025 and later.
Sites like www.fueleconomy.gov can help you find and compare existing models that meet your needs and budget.
Battery Electric Vehicle
A battery electric vehicle is driven entirely by a battery-powered electric motor. As technology improves, ranges continue to increase, although they can vary widely across models and are impacted by factors such as weather and driver behavior. Fully electric vehicles currently range 100-400 miles.
Plug-in Hybrid Electric Vehicle
A plug-in hybrid electric vehicle has both a battery-powered electric motor and an internal combustion engine. When the electric range is exhausted, the vehicle is powered by gasoline. A typical plug-in hybrid has an electric range of 20-40 miles, although ranges vary by make and model.
ELECTRIC VEHICLE CHARGING STATIONS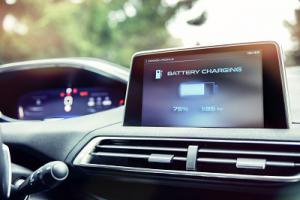 Access to electric vehicle charging stations is essential to current and would-be owners of plug-in hybrid and battery electric vehicles. Residents and commercial property owners may opt to install charging stations to ensure reliable charging access for personal and fleet vehicles. Installation of EV charging infrastructure may require permitting and fees through Fairfax County. For questions related to permitting, please see Fairfax County's Land Development Services
Installing a charging station at home or at a business may not be feasible for all community members. For those who own or operate electric vehicles for personal or commercial use, there are a number of publicly available charging stations located in and around Fairfax County. Users may search for charging stations by using station locator maps, such as the Department of Energy's Alternative Fueling Station Locator.
---
TYPES OF CHARGING STATIONS
 
Charging needs will vary across users depending on the battery capacity of their electric vehicle, daily use, accessory use and other factors, such as weather. More information about each of the three types of EVCS is available below to help residents and businesses determine what they may need.
Level 1 Charging Stations
A Level 1 charging system can be plugged into most grounded electrical outlets and is usually rated for 15 amperes at 120 volts common. Level 1 EVCS charge at the slowest rate, at about two to five miles per one hour of charge. Owners of vehicles with small batteries, lower mileage needs, or those who can wait several hours while their vehicle recharges may find Level I chargers sufficient for their needs. Level I chargers are a viable charging option for all electric vehicles.
Level 2 Charging Stations
A Level 2 charging system requires a dedicated 240-volt circuit and charges at a rate of 10-20 miles per one hour of charging. Level 2 EVCS are appropriate for most home and commercial applications. Charging at a much faster rate than Level I chargers, Level 2 chargers are the most commonly available type of EVCS. As with Level I chargers, they are a viable charging option for all electric vehicles.
Level 3 Charging Stations
A Level 3 charging system or DC fast charger, is used in commercial applications, is hardwired per the manufacturer and charges at a rate of 60-80 miles per 20 minutes of charging. Though the fastest type of EVCS, not all electric vehicles are compatible with DC fast charging or may only be compatible with certain fast charging systems. There are three types of DC fast charging connector systems, the CCS connector, the CHAdeMO connector and the Tesla Supercharger connector. Before using DC fast chargers, electric vehicle operators should first determine whether their vehicle is compatible with the charging system or whether they will need any adapters to connect to the system.
PERMITTING REQUIREMENTS AND ZONING PROVISIONS FOR ELECTRIC VEHICLE CHARGING STATIONS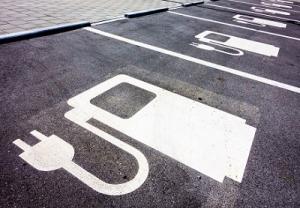 Installation of EV charging stations may require the submission of permit applications and fees to Fairfax County. Permitting and fees vary across the different kinds of charging stations as well as customer type. Please consult Fairfax County's Land Development Services for your EV charging station permitting needs.
In addition to permitting requirements, Fairfax County adopted new Zoning regulations for EV charging stations, which took effect July 1, 2021, following the Board of Supervisors' adoption of a new and modernized Zoning Ordinance. Please review the regulations pertinent to EV charging stations to ensure compliance. Electric vehicle charging is addressed in Article 4, Section 4102.7.E. See Fairfax County's Department of Planning and Development for more information on the Zoning Ordinance.
Incentives
EVs often have higher sticker prices than their gas- or diesel-powered counterparts. However, there are some incentives in place that can ease the burden of these higher upfront costs.
Federal Incentives
At the federal level, new and used EVs and plug-in hybrids may be eligible for a federal income tax credit of up to $7,500. When you purchased and placed your vehicle in service and where it was made or assembled can affect the availability and amount of these tax credits:
State Incentives
While a rebate program for EVs has been established in Virginia, it remains unfunded. The program would provide a rebate of $2,500 to those who purchase a new EV (with a base price of $55,000 or less) or a used EV (with a sale price of $25,000 or less). Residents who meet certain income qualifications would be eligible to receive an additional $2,000 in rebates for eligible new or used EVs. Updates on the program will be provided here as they become available.