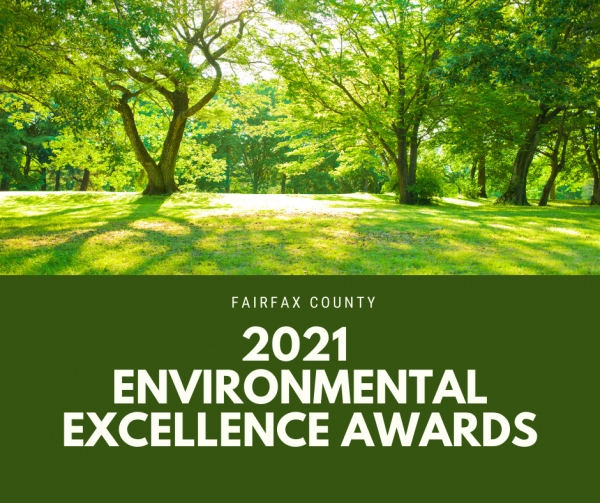 Each year, the Fairfax County Environmental Excellence Awards recognize individuals, organizations, businesses and county employees who:
 Advance or support the county's environmental goals and policy statements
 Dedicate personal time and expertise beyond normal fiscal or civic responsibilities
 Demonstrate leadership as a role model for others
The awards are administered by the Environmental Quality Advisory Council with support from the Office of Environmental and Energy Coordination.
The 2021 Environmental Excellence Award nomination period is now open and will remain open until 11:59 PM on June 1, 2021. All nominations must be submitted via email to eqac@fairfaxcounty.gov. Two versions of the nomination form are linked below.
Please click here to download a PDF of the nomination form that can be filled in by hand, scanned, and emailed.
Please click here to download a PDF of the nomination form that is fillable using a computer.
If you have questions about the awards or the nomination process, please contact the Office of Environmental and Energy Coordination at 703-324-7136, TTY 711.
The 2020 Environmental Excellence Awards were announced on September 2, 2020 and included three individual county residents, one business, and one county employee.
The 2020 Environmental Excellence Award recipients are:
Individual County Resident Awards:
 Sara Holtz
 Delegate Mark Keam
 Meghan Walker
Business Awards:
County Employee Awards:
Sara Holtz
Sara is an active volunteer with several prominent environmental organizations in Fairfax County, including the Fairfax County Park Authority (FCPA), Fairfax ReLeaf, and the Northern Virginia Soil and Water Conservation District. Among her contributions and accomplishments, Sara serves as the Site Leader at Difficult Run Stream Valley Park in Oakton for the FCPA Invasive Management Area Program. In connection with Fairfax ReLeaf, Sara has recruited and managed volunteers who have planted nearly 1,000 trees and shrubs and has educated hundreds of youth through the Waples Mill Elementary School STAMP (Science Technology Art Music Philanthropy) program. With the Soil and Water Conservation District she mobilized volunteers to label all of the nearly 800 storm drains in Waples Mill neighborhoods. Sara particularly enjoys promoting environmental volunteerism with youth including STAMP, Girl Scouts, Cub Scouts, and Scouts BSA; leads by doing; and is an avid volunteer, dedicating over one thousand hours each year to local causes and organizations.
Delegate Mark Keam
Delegate Keam represents Virginia's 35th House District, located entirely within Fairfax County, in the Virginia House of Delegates. In early 2020, he was the Chief Patron of HB572 (referred to as the "Solar Freedom" bill), a critical piece of legislation that lifts the cap on renewable energy pilot projects in Dominion Energy territory. This bill, which became law on July 1, 2020, will allow Fairfax County to expand its use of renewable energy by moving ahead with planned projects to install solar arrays on rooftops and parking lots of government buildings, schools, and park facilities, as well as a large solar array at the I-95 landfill site. In 2020 Delegate Keam was also the Chief Patron of HB704, the Virginia Environmental Justice Act, which will ensure that environmental justice is considered throughout Commonwealth activities.
Meghan Walker
Meghan has held numerous positions with the Friends of Lake Accotink Park (FLAP), including President, Treasurer, and Communications Director, and has served the community for well over a decade. In her roles, Meghan has actively participated in a number of initiatives including the creation of a new pollinator educator garden, which includes 560 plants of 14 varieties and offers classes and brochures to educate the community on the importance of pollinator plants. Additionally, Meghan has played a role in the Accotink Creek/Lake Accotink Total Daily Maximum Load Technical Advisory Council and has advocated for funding for various environmental projects and programs.
Freddie Mac
Freddie Mac is headquartered in Tysons Corner. Notable accomplishments include the development of sustainability-oriented mortgage products to incentivize the greening of buildings and the successful avoidance of more than 3,600 tons of waste since 2016 through innovative recycling efforts. Freddie Mac has reduced transportation emissions by installing 20 electric vehicle chargers, expanding their vanpool program, which has eliminated 1.9 million commuter miles, and offering shuttles to the Tysons Corner Metro to encourage use of public transit by employees and visitors.
Vickie Anglin
Vickie is the county surveyor and is responsible for countywide monumentation, which provides critical data that influences how infrastructure is built. In 2019, Vickie volunteered to lead a team focusing on health and the environment as part of development of the County Strategic Plan. Vickie brought together a diverse team of individuals from different agencies to perform community outreach, research best practices, review existing materials, and develop strategies to move the county forward. She also ensured that there was a strong focus on social equity as the plan was developed, making a special effort to reach historically underrepresented parts of the community.
The Environmental Excellence Awards are granted in up to four categories: Individual/County Resident, Organization, Business, and County Employee.
2019
Individual Award: Catherine Ledec
Individual Award: Helen Stevens
Organization Award: Faith Alliance for Climate Solutions
Organization Award: Reston Annual State of the Environment (RASER) Working Group
County Employee Award: James Hart
County Employee Award: Noel Kaplan
2018
Individual Award: Jennifer Cole
Individual Award: Betsy Martin and Paul Siegel
Organization Award: Mid-Atlantic Off-Road Enthusiasts
County Employee Award: Sally Carter
County Employee Award: Judy Fincham and Danielle Wynne
2017
Individual Award: Glenda Booth
Individual Award: Jim McGlone
Organization Award: Mason Neck Lions Club
Organization Award: McLean Citizens Association's Environment, Parks, and Recreation Committee and Churchill Road Elementary School
Business Award: The MITRE Corporation
County Employee Award: Robert Aaront
County Employee Award: Kambiz Agazi
2016
Individual Award: John Houser
Individual Award: Randy Sayles
Organization Award: ReBuild Warehouse
Organization Award: Town of Vienna Community Enhancement Commission
Business Award: Booz Allen Hamilton
Business Award: Freddie Mac
County Employee Award: Katherine Edwards
2015
County Resident Award: Duane DeBruyne
County Resident Award: Stephen Robinson
Organization Award: Friends of Accotink Creek
Organization Award: McLean Trees Foundation
2014
County Resident Award: John DeNoyer and Ann Csonka (posthumous)
Organization Award: Potomac Environmental Research and Education Center, George Mason University
Business Award: Davis, Carter, Scott Ltd
Business Award: Guernsey Office Products
County Employee Award: Joyce Doughty
2013
County Resident Award: Alan Ford
Organization Award: Herndon Environmental Network
Business Award: Burgundy Farm Country Day School
Business Award: Potomac Vegetable Farms
County Employee Award: Sean Duffy
County Employee Award: Randall G. Miller
2012
County Resident Award: Elaine Tholen
County Resident Award: Betsy Washington
Organization Award: ServiceSource
Business Award: Walker's Grill
County Employee Award: Ron Tuttle
2011
Organization Award: Fairfax County Restoration Project
Organization Award: Fairfax County Department of Vehicle Services
2010
County Resident Award: Maureen Goble 
Business Award: Project Performance Corporation
County Employee Award: Meghan Fellows
2009
Organization Award:  Earth Sangha
Business Award:  Allen Wayne, Ltd.
County Employee Award:  Carl Sivertsen
2008
County Resident Award: Chet McLaren
Organization Award:  Katherine K. Hanley Family Shelter Project Management Team
Business Award:  "Jack-the-Ripper" Certified Arborists, Inc.
2007
County Resident Award: Scott Birdwell
County Resident Award:  Eleanor Quigley and Penelope Firth
Organization Award:  Great Falls Citizens Association
Organization Award:  Invasive Management Area Volunteers
County Employee Award:  Judy Fincham
2006
County Resident Award: Ken Andrews
Organization Award:  Northern Virginia Soil and Water Conservation District
Business Award:  Wetland Studies and Solutions, Inc.
2005
County Employee Award:    Janet Rahman
2004
County Resident Award: Ned Foster
Organization Award: Reston Association
2003
County Resident Award: Joseph M. Chudzik
Organization Award: Students Against Global Abuse (SAGA)
County Employee Award: Noel H. Kaplan
2002
County Resident Award: Charlie Creighton
Organization Award: Hickory Farms Community Association
2001
County Resident Award: Chris Koerner
Organization Award: Bailey's Beautification Alliance
2000
County Resident Award: Norma Hoffman
Organization Award: Friends of Sugarland Run
County Employee Award: Gary Roisum