Conference Rooms at the Mason District Governmental Center
Renovations to the Mason District Governmental Center, 6507 Columbia Pike in Annandale, are anticipated to begin in 2024, but a construction schedule is not finalized yet.  Therefore, applications to reserve public meeting rooms will be accepted beginning on 
Friday,
December 1, 2023
, for the first quarter of 2024.  If you would like to reserve a public meeting room in January, February, or March 2024, send your application by e-mail to 
Mason@fairfaxcounty.gov
on or after December 1, 2023
.  Applications will be processed on a first-come, first-serve basis.  Questions may be sent to Chris Delta at 
mason@fairfaxcounty.gov
, or call 703-256-7717 for more information.
The public meeting rooms at the Mason District Governmental Center are open and available for reservation.  The Main Community Room and Large Conference Room have capacities of 100 people.  The Small Conference Room has a capacity of 15 people.  To reserve a room, submitting the room reservation form.  Contact Chris Delta at 703-256-7717 for available times and dates.
Rooms are booked on a first come basis.  Groups can book up to one 4-hour meeting per month.   One form must be submitted for each calendar year.    
---
MAIN COMMUNITY ROOM
This spacious room has a tiled floor and holds approximately 100 people. The room has a podium, white board, a pull down screen for projections, and U.S. & Virginia State flags.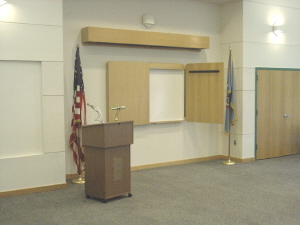 ---
LARGE CONFERENCE ROOM
This tiled room holds approximately 100 people.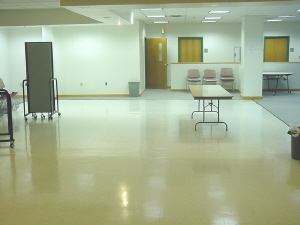 ---
SMALL CONFERENCE ROOM
This cozy room has a tiled floor and holds approximately 15 people.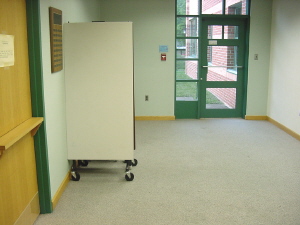 To check the availability of our rooms, please call (703) 256-7717.
We only have a limited supply of tables for use in all of the rooms ~ please be conscious of other groups' need for the resources, too. Public restrooms, telephones and vending machines are available on site. While there is no charge for using our rooms, we have a list of regulations that must be agreed to before use of the rooms will be permitted.
---
For additional information about the use of the community room, see the Regulations for Public Use of Community Rooms at Fairfax County District Governmental Centers [PDF file].