Conference Rooms at the Mason District Governmental Center
The public meeting rooms at the Mason bldg. will reopen September 7, 2021.   Groups with 50 attendees or less, may begin submitting the room reservation form beginning Monday, August 2 for space they wish to reserve for the remainder of 2021.  A new form must be submitted even if a form had already been approved for the group earlier in 2021.   
Maximum group size will be restored to 100 attendees in 2022.  We will begin accepting reservations for 2022 on Friday, October 1.  
Rooms are booked on a first come basis.  Groups can book up to one 4 hour meeting per month.   One form must be submitted for each calendar year.     
 
---
MAIN COMMUNITY ROOM
This spacious room has a tiled floor and holds approximately 100 people. The room has a podium, white board, a pull down screen for projections, and U.S. & Virginia State flags.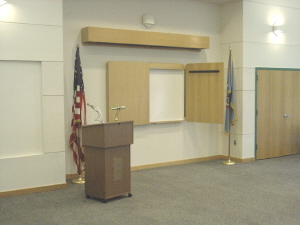 ---
LARGE CONFERENCE ROOM
This tiled room holds approximately 100 people.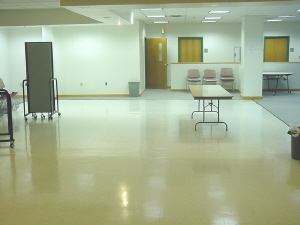 ---
SMALL CONFERENCE ROOM
This cozy room has a tiled floor and holds approximately 15 people.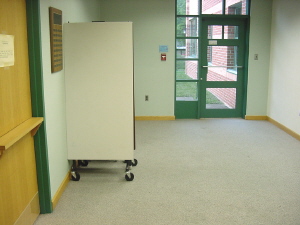 To check the availability of our rooms, please call (703) 256-7717.
We only have a limited supply of tables for use in all of the rooms ~ please be conscious of other groups' need for the resources, too. Public restrooms, telephones and vending machines are available on site. While there is no charge for using our rooms, we have a list of regulations that must be agreed to before use of the rooms will be permitted.
---
For additional information about the use of the community room, see the Regulations for Public Use of Community Rooms at Fairfax County District Governmental Centers [PDF file].