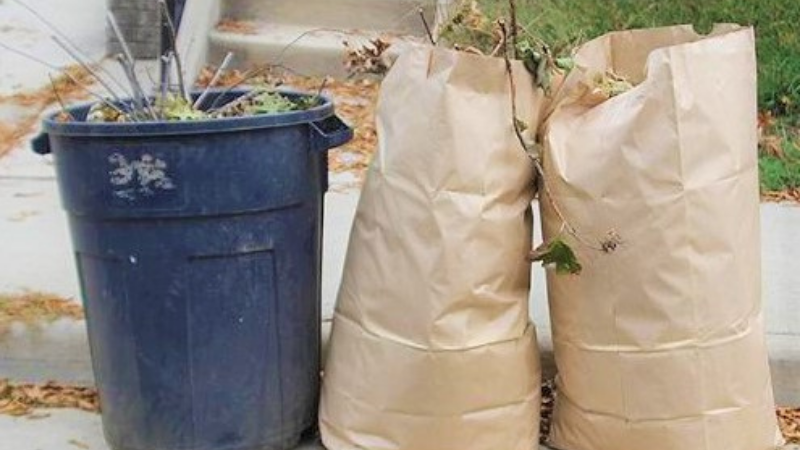 Plastic bags have been eliminated for disposal of yard waste.
Paper bags or reusable containers must be used by residents and businesses.
Board of Supervisors amended the Solid Waste Management ordinance effective March 1, 2021.
Enforcement begins April 19, 2021.
Fairfax County is doing its part to keep plastic from being re-introduced into the environment by eliminating the use of plastic bags for disposing yard waste. Instead, residents and business will use paper yard waste bags or rigid, reusable containers.
WHY THE CHANGE?
When plastic bags are shredded during the composting process, pieces of the bags often end up mixed in with the compost, which is then applied to gardens, yards and other projects. Using paper bags helps get rid of plastic pollution.
ACCEPTABLE YARD WASTE ITEMS
You can place grass and grass clippings, leaves, flowers, small prunings, straw and brush and twigs in your paper bags. Yard waste does not include soil, mulch, sod, stumps, whole trees, large branches or limbs, materials from land clearing, or home renovation projects.
WHAT YOU WILL NEED TO DO
Each year, from March through December, yard waste must be collected separately from trash. When you set out yard waste for collection, use paper yard waste bags. Items placed in plastic bags may not be collected. You also have the option of disposing of yard waste on your own by taking the items, in paper bags or reusable containers, to the I-66 Transfer Station or the I-95 Landfill. Commercial yard waste loads containing plastic bags delivered after April 19 will be subject to a penalty fee of $100/ton.
FOR MORE INFORMATION
Visit our webpage on yard waste disposal for more details.