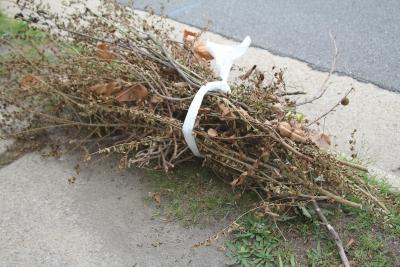 Yard waste includes grass clippings, leaves, and brush (i.e., branches and twigs smaller than 4-feet in length) generated during general yard maintenance. Yard waste does not include materials generated during tree removal, land clearing, or home renovation projects.
How to Manage Yard Waste
Manage it onsite: Leave grass clippings on your lawn by grasscycling, and/or backyard composting yard waste along with other organics, such as food waste, to enrich your soil and promote healthy plants.
Set it out for curbside collection*: If you are a county customer, visit Curbside Yard Waste for set out instructions. If a private hauler collects your trash, please follow their instructions for the curbside collection of yard waste.
Self-haul to a county facility: Yard waste is accepted at the county's I-66 and I-95 waste management complexes for a fee. For more information regarding fees, please visit residential disposal fees and regulations. See also Tree Stumps
*Please Note: yard waste is collected at curbside year-round, but only processed for recycling from March 1 through December 24. With the exception of Christmas trees, between December 25th and the end of February, the small amount of yard waste generated is disposed of as trash.
Exceptions to Managing Yard Waste
Large amounts of yard waste & brush: If you are a county customer, please see Curbside Yard Waste. If a private hauler collects your trash, please contact them or a bulk/junk removal company for collection services.
Townhome Communities: Some townhome communities that do not generate a large amount of yard waste may be exempted from county collection requirements by seeking approval of an "alternative yard waste recycling system." For more information about how to qualify, please call our office at 703-324-5230, TTY 711.
Bagging Yard Waste
You may have heard that the county is considering new rules for yard waste collection, specifically about plastic bags. A decision to pursue a regulatory change that affects how yard waste is collected has been postponed indefinitely. Currently, there is not a ban on the use of plastic bags for yard waste in Fairfax County.  Grasscycling, mulching, and composting are environmentally sound alternatives to bagging grass clippings and leaves.  Please be aware that most curbside trash pick-up is provided by private hauling companies which may have their own requirements.  If you have any questions, please call us at 703-324-5230, TTY 711.
Use paper yard waste bags for grass clippings, leaves, and brush; they are durable, sustainable, and available in stores and online.
Paper Lawn Bags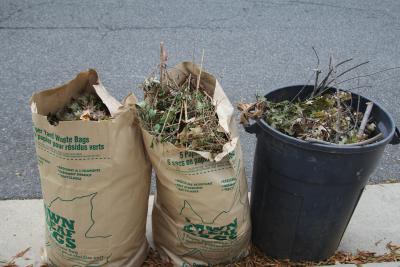 When packaging yard waste for collection at the curb, please consider the use of paper lawn bags or reusable container. Eliminating plastic bags for yard waste collection helps ensure all local yard composting facilities make the highest-quality end-products for use on residential and commercial lawns and gardens.
Grasscycling
Grasscycling simply means leaving grass clippings on the lawn to promote a greener, healthier lawn. Any lawnmower can be used, but mulching lawnmowers cut the grass into smaller pieces and filter them back into the lawn, reducing clippings from clumping together or being tracked into a home or business.
Reasons for encouraging grasscycling:
Reduces labor for bagging, hauling, and disposing of grass clippings
Helps reduce worker injuries related to heavy lifting
Allows worms to do their job, recycling clippings naturally and improving soil quality
Reduces the need for chemical fertilizers by up to 50% and the cost of maintaining lawn health
Improves water retention and reduces fertilizer and sediment run-off
Fall leaves can also be mulched into the lawn rather than bagged and disposed
Composting
Many homeowners create compost from their organic waste (kitchen scraps and yard waste) and use it to return vital nutrients back to the soil. Some useful information about how to compost at home can be found on composting and more and the EPA's composting at home.
Christmas trees
Christmas trees are collected and recycled the first two weeks in January.
Yard Waste Management in Fairfax County
Fairfax County has a comprehensive yard waste recycling program for all residential and commercial properties, whereby waste haulers and landscapers deliver yard waste to a yard waste management facilities legally permitted to operate in the state of Virginia.
Each year the county and private haulers manage more than 200,000 tons of yard waste such as grass clippings, brush, leaves, and branches. You can assist by adopting all or some of the sustainable yard waste management practices suggested below.