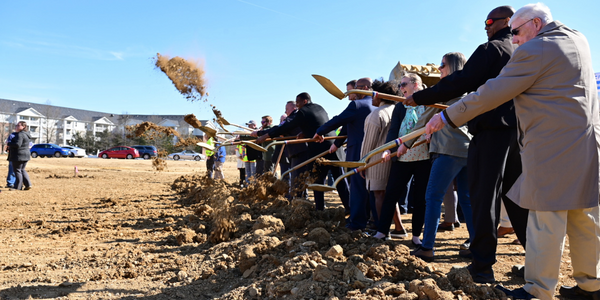 We celebrated the beginning of construction on the new Franconia Governmental Center and Kingstowne Regional Library this week. The new facility—projected to open in 2025—will provide a safe, convenient and friendly environment for the residents of the Kingstowne area to gather and to access county services in one central location.
"Replacing the aging Franconia Governmental Center has been a priority of this community for a long time, creating a great opportunity to co-locate services, improving efficiency and convenience," said Board of Supervisors Chairman Jeff McKay about the project. "I am so excited to see this new LEED-certified, incredible facility and cannot wait to cut the ribbon to a new childcare center for infants and pre-k, new police station, new library, new Supervisor's office and the Franconia Museum in 2025."
Watch a video of highlights from the groundbreaking ceremony:
County services in the Kingstowne area of Alexandria are scattered and facilities are small and outdated. The programs moving into the new building will benefit from dedicated space and parking, as well as newer, modern amenities. 
"Our community has experienced tremendous prosperity and growth since the construction of the current Franconia Governmental Center. Our district's residents deserve access to a facility that both reflects that growth and provides ease of access to the level of amenities that are commonplace across our county," adds Franconia District Supervisor Rodney Lusk. "I'm excited that this new facility will be the largest magisterial governmental center in the county and will be a model for future mixed-use governmental centers across our region."
The center will house the Franconia Police Station, the Franconia District Supervisor's Office and the Franconia Museum. The Active Adult Center will include 7,200 square feet of space and a new childcare center with approximately 10,000 square feet will offer care for infants through pre-kindergarten age children. The Kinsgtowne Community Library will be expanded to a regional library.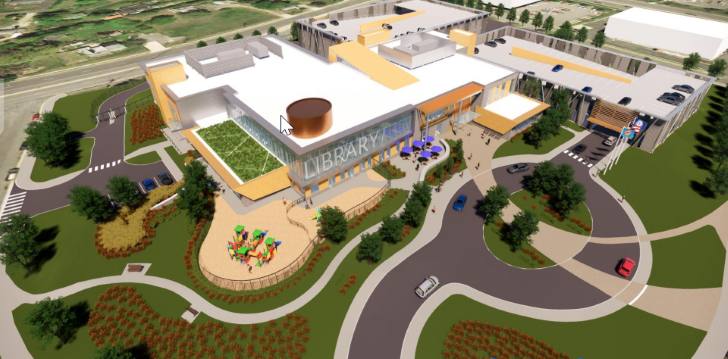 The new building will be constructed on a vacant county-owned site between Beulah Street, Silver Lake Boulevard and Interparcel Road, just south of Manchester Boulevard in the heart of the Kinsgtowne area of Alexandria. It is convenient for direct access from the residential neighborhood, the adjacent elementary school and nearby commercial establishments.
Funding for the Franconia Police Station, including the Franconia District Supervisor's Office and the Franconia Museum, was approved in the 2015 Public Safety Bond Referendum. Funding for the library, which included the Active Adult Center, was approved in the 2020 Library Bond referendum.
Learn more about the future center on the Franconia Governmental Center and Kingstowne Regional Library Project page.