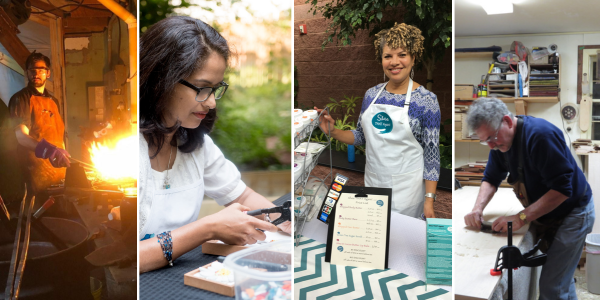 From custom cookies and cake pops to handmade furniture and jewelry, there are numerous small-scale production businesses that call Fairfax County home. Established in 2018, Made in Fairfax was developed by the county to support and connect small-scale production or "maker" businesses. Today, the Made in Fairfax Network is composed of more than 125 local makers, which are all accessible through an online directory.
Small-scale producers in Fairfax County can apply to the Made in Fairfax Network and use the Made in Fairfax brand through a licensing agreement. There is no cost
to join. By participating, members can:
Build peer-to-peer connections for collaborations and mutual learning opportunities.
Participate in maker events as they become available in the future.
Receive updates on new programs that may benefit their businesses, as well as upcoming opportunities to showcase products at area markets.
More details about the Made in Fairfax program and the county's makers are available on the Community Revitalization webpage.