Called BLVD, a new 21-story, luxury apartment building that rises up next to what's currently the last stop on the Silver Line opened its doors on Tuesday.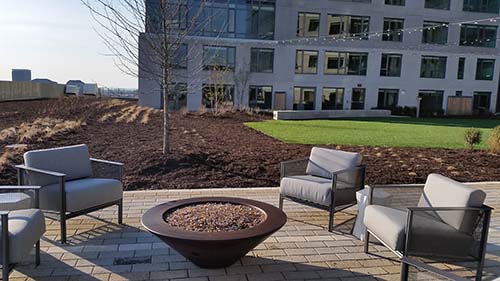 Fairfax officials hailed the event because it shows how the county's economic strategy is delivering dividends. This building, which is the first in a larger development at the site, has generated more than $110 million in increased property value so far. The taxable value climbed from $15,416,610 to $125,614,080, and these values are expected to go even higher when the development is complete.
The project resulted from a public-private partnership with developer Comstock which is building on top of county-owned land. Fairfax is turning to these partnerships as a key tool in their efforts to grow and diversify the economy. County leaders point to 17 other similar projects that are intended to grow the tax base, spur revitalization or deliver services.
"When the public and private sectors partner on big projects like this one, businesses and the county benefit from new revenue, and residents benefit from new services and opportunities," said Fairfax County Board of Supervisors Chairman Sharon Bulova. "This project demonstrates our economic strategy is working. It's growing and diversifying the county's economy, including our tax base."
BLVD is one of eight high rises that will make up Reston Station. This mixed use development will bring up to 1.3 million square feet in housing, offices, retail, and a hotel with direct access to the Silver Line. It's located between Reston Station Boulevard and Wiehle Avenue, just north of the Wiehle-Reston East Metro station. A walkway links the station to the project's civic plaza, and the development largely sits on top of the county's underground garage for rail commuters.
Fairfax County owns about nine acres that make up the more than 12-acre development. Five years ago, the county sought a partner to help build the public garage to serve the station while maximizing he economic return on its land.
Under the partnership, Comstock built the 2,300-space garage for the county, and the developer leases the county land where five of its buildings will spring up. The deal delivered an important public facility to serve the new rail line. It also creates the kind of mixed-use, transit oriented development that county leaders want to see more of in Fairfax.
County officials point to this project as prime example of its Economic Success Plan in action, using multiple tactics. It calls for creating the urban, walkable neighborhoods near transit that everyone from millennials to baby boomers want to live in.
The plan also seeks to use public-private partnerships, like this joint-venture, to maximize the return on investment potential for all county assets, including land and facilities. The county also seeks to leverage partnership opportunities with both private and public partners to construct and operate infrastructure and facilities.
The county is also pursuing more affordable housing as a way to boost economic growth. BLVD's 448 apartments include 88 workforce units—or about 20 percent of the building's total.
The apartment building incorporates about 8,500 square feet of retail into its ground floor. Amenities include a rooftop pool and terrace, a fully equipped fitness center, yoga room, state-of-the-art business center, secure garage parking, and numerous outdoor amenities including cooking stations, outdoor movie screening area and a mid-level, south-facing terrace.
Reston Station is just one the county's public-private partnerships, and other similar projects include Reston Town Center North, Innovation Station, and Liberty at Laurel Hill.
#  # #