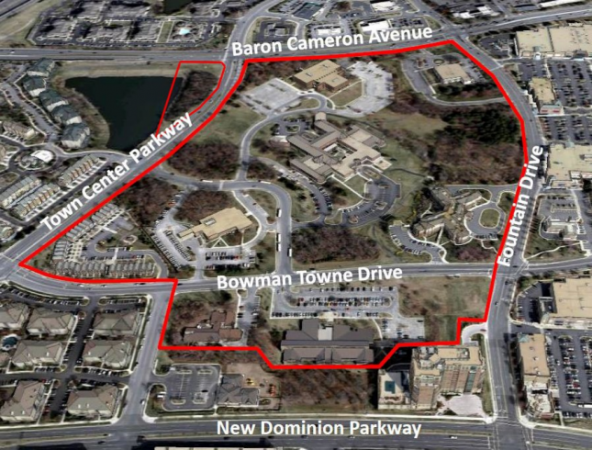 Located midway between Tysons and Dulles International Airport, future Reston Town Center North is part of a quickly urbanizing area in northwestern Fairfax County. The Board of Supervisors envisions redeveloping the property from a collection of irregularly-shaped parcels, which are incompatible with Reston Town Center and surrounding development, into a vibrant urban, mixed-use environment that transitions from the Reston Town Center to the existing surrounding development. Reston Town Center North will be accessible from Dulles Toll Road, Fairfax County Parkway, and Reston Parkway, and nearby public transportation includes the Wiehle-Reston East Metrorail station (two miles) and the Reston Town Center Metrorail station (one mile).
Community Benefits of Redevelopment
Creation of a central green space open for public use
Mixed-use development compatible with adjacent Reston Town Center
Walkable community connected to surrounding communities, Reston Town Center, and public transportation
Expanded library to serve growing population
Upgraded delivery of human services
Affordable housing provided for workforce 
Consistent with Fairfax County's commitment to economic growth and revitalization, as outlined in the Strategic Plan to Facilitate Fairfax County's Economic Success, and commitment to social equity, as outlined in the One Fairfax Resolution, and in partnership with Inova Health Care Services (Inova), the county is leveraging its assets to help create a transit-oriented, pedestrian-friendly, mixed-use development that embraces Reston's motto of "Live, Work, Play", while also upgrading public facilities and services.

Project questions and concerns may be directed to RestonTownCenterNorth@fairfaxcounty.gov.