The Fairfax County Department of Tax Administration earned recertification for meeting the highest standards for tax appraisal and assessment practice. 
It is only one of 57 assessment offices in North America to achieve a Certificate of Excellence in Assessment Administration from the International Association of Assessing Officers. The department is also the only county assessment office in Virginia to hold this certification.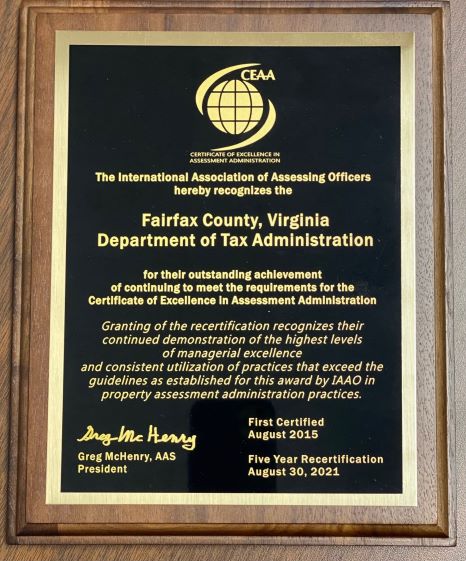 "This certification marks Fairfax County as the best in class when it comes to assessing taxes equitably and efficiently, following the industry's highest standards," said Fairfax County Chairman Jeffrey McKay. "It's a testament to the county's ongoing commitment to fair and transparent assessments, and i am proud that Fairfax County ranks as one of the few in North America and the only county in Virginia to hold this prestigious certification."
To achieve the certification, the department conducted a rigorous one-year self-evaluation, and the county's practices were then judged by an independent panel of tax assessment professionals. The evaluation examined everything from the county's land and property valuation methods to data and cybersecurity standards.
The county originally earned its certification in 2015, and this year it completed the recertification process that is required every five years.
The International Association of Assessing Officers is a nonprofit, educational and research association. It is comprised of more than 8,000 members worldwide from governments, businesses, and academic institutions who are interested in the administration of property taxes.
For more information, contact the Department of Tax Administration at 703-222-8234, TTY 711.