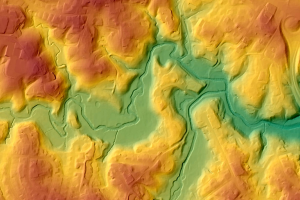 The Topography Dataset is available for purchase. The data provided are: DEM (digital elevation model), 2-ft elevation contours, spot elevations, breaklines, and masspoints, all in both NAVD88 and NGVD29 vertical datums. (For more information on datums, please visit the National Geodetic Survey's FAQ page). These datasets were developed from 2009 aerial photography. (note: the elevation contours and spot elevations are the same data as that included in the Property and Topography dataset after August 2013).
Each county quadrant is available for $148 (plus tax); countywide coverage is $592 (plus tax).                      
Please refer to the map below for assistance in determining quadrant(s) of interest. By accessing any of the data, maps, or applications provided by Fairfax County, you agree to the terms in our disclaimer.
To purchase data:
1. Complete the online Topography Data Order Form.
2. Print the completed form and mail it, with a check or money order, to the address shown at the top of this page under "Contact Information." Alternately, you may email your order form to GIS.HelpQ@FairfaxCounty.gov, but your order will not be processed until payment is received.
3. Once payment is received, you will receive a Sharefile link to the data.
4. You will have seven days to download your data before your link expires.