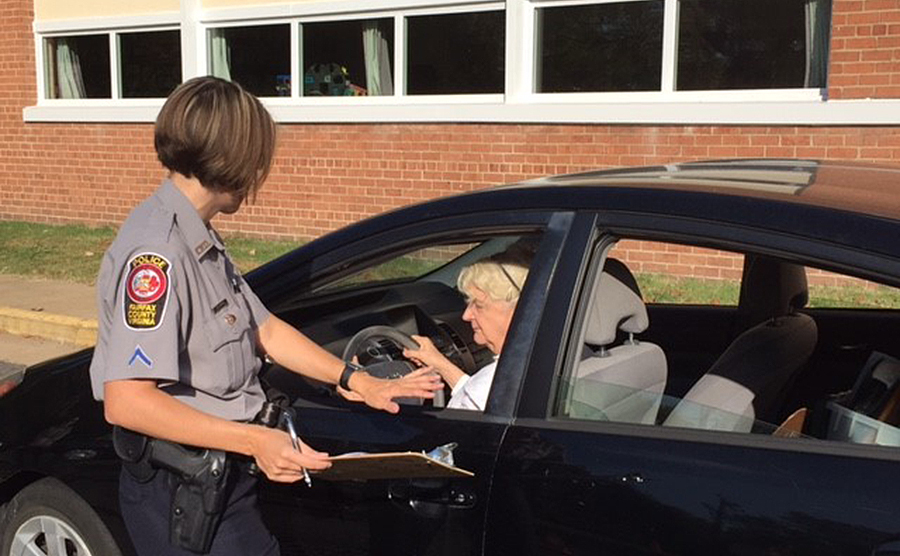 The number of older drivers on our roads is increasing and changes in vision, flexibility, strength, range of motion and height may reduce an older adult's control behind the wheel. The good news is that a few simple adjustments or use of adaptive devices can significantly increase driver safety. To help our older residents know what adjustments to make, our Police Department's Traffic Safety Services Division is providing the CarFit program.
 
What is CarFit?
CarFit is a free, quick and comprehensive review of how well an older adult's car meets their needs and abilities. Trained police officers and technicians ask participants several simple questions and complete a 12-point checklist. Drivers receive recommended car adjustments and adaptations and a list of local resources. If you are interested in participating in or hosting a CarFit program, contact Officer Tara Gerhard at tara.gerhard@fairfaxcounty.gov.
 
7 Adjustments for Safer Driving
Here are CarFit adjustments you can make in your own driveway:
Have a clear line of sight over the steering wheel: Your line of sight should be at least three inches above the top of the steering wheel.
Make sure you have plenty of room between your breastbone and the air bag in the steering wheel : The distance should be at least 10 inches to allow adequate room for the air bag to safely deploy.
Adjust your seat so that it fits you comfortably and safely : Each time you drive, you should be able to adjust the seat for good visibility and easy access to vehicle controls.
Properly adjust your head restraint : In the event of a crash, especially a rear-end collision, this can help prevent neck injuries like whiplash.
Make sure you have easy access to gas and brake pedals: You should be able to easily reach the vehicle's pedals without having to stretch, and you should be able to completely depress the brake pedal.
Wear your seat belt so that it holds you in the proper position and remains comfortable: The proper way for an adult to wear a seat belt is for the lap belt to fit low and tight across the hips and pelvis, not on the stomach area that contains soft tissue
Position your mirrors to minimize blind spots: Adjust the interior rearview mirror so it shows as much of the rear window as possible. Place your head near the left window and adjust the left side-view mirror so you can just see the side of your vehicle. Position your head near the middle of the vehicle, above the center console, and adjust the right side-view mirror so you can just see the side of your vehicle.
What to Know if You're 75 or Older
Virginia drivers who are 75 or older are required to appear in person at a Virginia Department of Motor Vehicles (DMV) Office for their next license renewal and pass a vision screening. Once issued, your license will generally be valid for five years. You can have your vision screened at DMV or provide a report from your ophthalmologist or optometrist. The report must have been issued within 90 days of your driver's license renewal. More information is available at www.dmvnow.com/mature or call 804-497-7100.
Listen to Claudia, a resident who participated in the CarFit program held at Hollin Hall Senior Center on Oct. 3:

Watch the Facebook Live video: