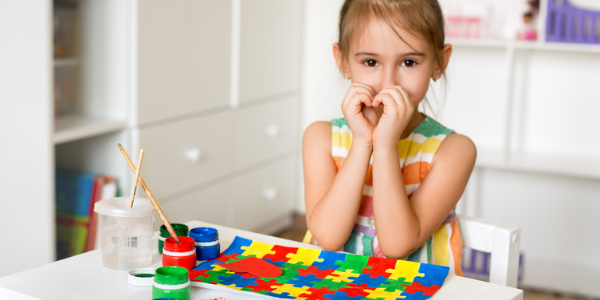 According to the Centers for Disease Control and Prevention's Autism and Developmental Disabilities Monitoring Network, one in 36 children have autism spectrum disorder (ASD). ASD can occur in all racial, ethnic and socioeconomic groups and is more than four times more common among boys than girls.
Research suggests that early intervention services can greatly improve a child's development. Individuals with ASD may struggle with social communication and interaction, and restriction or repetitive behaviors or interests. They may have different ways of learning, interacting or paying attention, which can make life challenging.
RESOURCES AT FAIRFAX COUNTY PUBLIC SCHOOLS
Fairfax County Public Schools' Parent Resource Center offers free workshops, consultations, a lending library and other resources to help support the success of all children, including those with autism, learning challenges and other special needs.
WHAT'S THE PROCESS FOR APPLYING FOR DEVELOPMENTAL DISABILITY WAIVER SERVICES?
Virginia has three waivers for individuals with developmental disabilities:
Building Independence Waiver
Family and Individual Supports Waiver
Community Living Waiver.
To find out if you're eligible for one of these waivers, the first step is to contact your local Community Services Board or Behavioral Health Authority.
WHO SHOULD I CONTACT FOR INTAKE?
In Fairfax County, contact 703-324-4400.
HOW LONG SHOULD PARENTS EXPECT TO WAIT BEFORE A WAIVER SLOT IS IDENTIFIED?
The Developmental Disability Waiver Waitlist is a needs-based list. It is not chronological. Therefore, a timeline of how long an individual will remain on the waitlist before receiving a waiver is unknown. Please refer to the "Navigating the Developmental Disability Waiver Manual" for detailed information.
"The award of a Community Services Board waiver to my son opened up a vast number of opportunities to continue his personal and emotional development after high school graduation at age 21. The day services and at home services have had a very positive effect in the development of his character. During the last three and half to four months, my son is showing less signs of emotional dependance on me personally and an increased level of self-reliance. Thank you!" -J.L.
RESOURCES
Therapeutic recreation services offers education, programs and services for individuals with intellectual and physical disabilities.  
F.A.N.tastic Times is a free drop-in program for individuals on the autism spectrum ages 2 to 22 and their families hosted by the Department of Neighborhood and Community Services.
Sensory rooms at Providence, Lorton and Sully community centers offer a person-centered, safe and nurturing environment through structured interaction and engagement.
SUPPORT GROUPS/ORGANIZATIONS
or a complete list of community resources, support groups and organizations supporting autism research compiled by the Fairfax-Falls Church Community Services Board, please visit Autism Resources in Fairfax County.