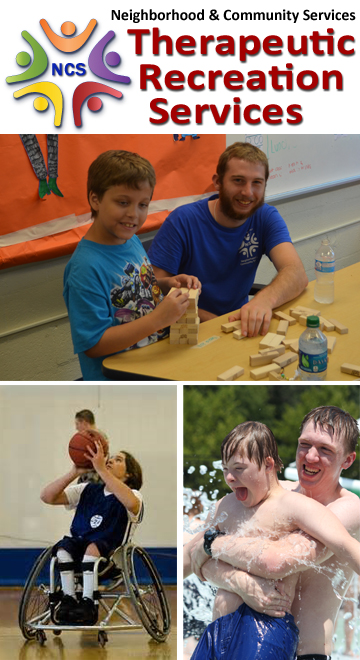 Therapeutic Recreation Services provides opportunities for children and adults with disabilities to develop the skills that enable them to participate in the recreation and leisure programs of their choice.
Staff is committed to providing services, education and resources to meet the needs of participants and assist them on the road toward lifelong participation and enjoyment in recreation and leisure activities. Staff also provides support and advocacy to individuals who wish to participate in general recreation activities.

Program Status Update
In-Person Programming
TRS will be offering a mix of in-person and virtual programs for the fall and winter as a way to continue to keep our families safe and accommodate the varying needs of the individuals we serve. Adult Social Clubs continue in-person programming once a month at various community locations and the wheelchair basketball team continues to practice weekly at James Lee Community Center.
TRS staff is available to answer any questions you may have and can be reached at 703-324-5532 or NCS-TRACERS@fairfaxcounty.gov.
Virtual Programming
TRS is hosting a variety of virtual programs for individuals with disabilities, at no cost, using a Zoom platform. Programs are available for preschoolers, school-age individuals as well as adults and offer a variety of social, cognitive and physical activities for all ability levels:
Mix It Up Mondays: A virtual program where adults with disabilities ages 18+ participate in a variety of activities focused on socialization, fitness, cognitive games, dancing and more! 
Sunday Bites: Family Edition: A monthly virtual cooking class the whole family can enjoy! Focuses on light meal and snack assembly using common household kitchen items.
Preschool Learn & Play: These 25-minute interactive sessions are designed for children ages 2-5 with or without delays/disabilities, with a parent/caregiver available to co-lead. Register: https://bit.ly/PSLearnPlay.
Other Virtual Activities
Virtual Center for Active Adults: Offers 15+ live facilitated activities a day along with a variety of on-demand programs and resources for older adults and adults with disabilities.
NCS Connects: NCS's virtual resource for youth, teens, parents and guardians offers a variety of live and on-demand programming focused on health and wellness, STEAM, academics, culture and adapted virtual learning.