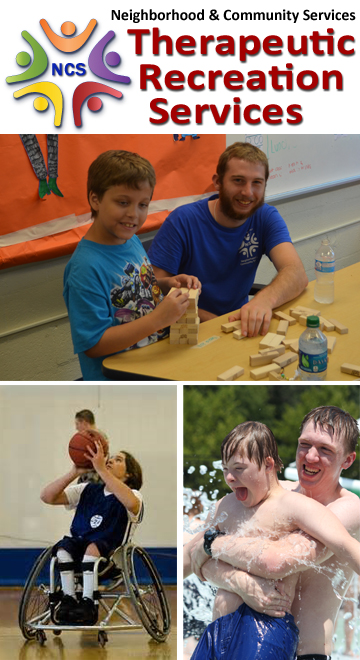 Therapeutic Recreation Services provides opportunities for children and adults with disabilities to develop the skills that enable them to participate in the recreation and leisure programs of their choice. Staff is committed to providing services, education and resources to meet the needs of participants and assist them on the road toward lifelong participation and enjoyment in recreation and leisure activities. Staff also provides support and advocacy to individuals who wish to participate in general recreation activities.

Program Status Update*
Virtual Programming
TRS is hosting a four-week Virtual Summer Camp, Adapted Virtual Adventures, beginning on July 13. The camp will feature two live Zoom Conferencing sessions daily. To register, visit the NCS Connects website or use these links:
In-Person Programming
All in-person TRS programs remain cancelled until further notice. Please note that while County facilities remain closed to the public, TRS staff is still working and available to assist you. We are available at 703-324-5532 or NCS-TRACERS@fairfaxcounty.gov.

*As of July 10, 2020.