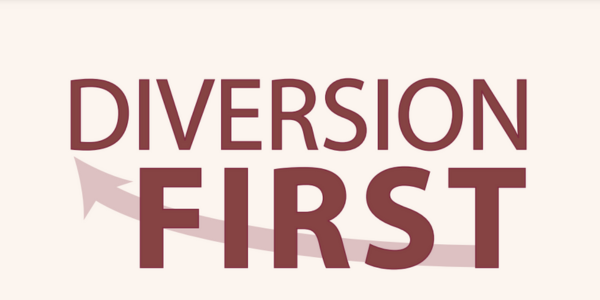 One in five Americans has a mental illness, and mental illness is not a crime. That's one of many reasons why we launched Diversion First, an award-winning program that shows the county's commitment to crisis intervention, diversion, treatment and recovery.
WHAT IS DIVERSION FIRST?
Diversion First is a continuum of services which offers alternatives to jail for people with mental illness, co-occurring substance use disorders and/or developmental disabilities, who come into contact with the criminal justice system for low-level offenses. It's a more efficient use of public resources designed to:
Prevent repeat encounters with the criminal justice system
Improve public safety
Promote a healthier community
The goal is to intervene whenever possible to provide assessment, treatment and/or needed supports.
PROGRAM SUCCESS
Diversion First has resulted in thousands of diversions from potential arrest since its implementation in 2016. This cross-system initiative has several successes. A few examples include:
Over 80 percent of individuals transported to the Merrifield Crisis Response Center by law enforcement in 2021 did not have a repeat visit related to criminal justice involvement within the following year.
The program made significant strides in enhancing the county's community-based crisis response, public safety and clinical teams. 
Specialty court dockets continue to thrive, with a new track in the Veterans Treatment Docket, an alumni group from the Mental Health Docket and a new treatment coordinator added to the Drug Court team.
Adult Detention Center services offer strong support to the Diversion program. The Striving to Achieve Recovery program has had several success stories, and community partnerships such as the one with the Chris Atwood Foundation (in conjunction with the Fairfax-Falls Church Community Services Board) allow participants to receive excellent peer recovery services. 
For more information, view the most recent Diversion First Annual Report.