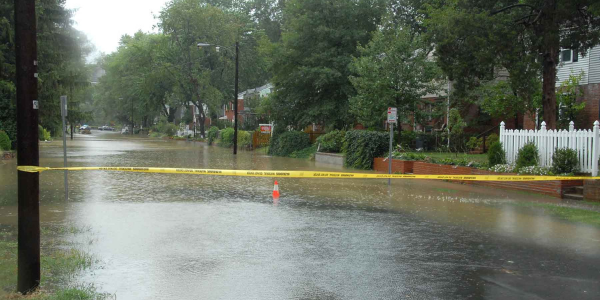 Did you know? Just one inch of water can cause roughly $25,000 in damage. 
Flooding is the number one natural disaster in America, and one of Fairfax County's most common hazards. To make matters worse, most homeowner's insurance doesn't cover flooding, nor do many homeowners have flood insurance. 
That's why our Department of Emergency Management and Security held a special webinar on the National Flood Insurance Program recently with the Federal Emergency Management Agency and the county's Department of Public Works and Environmental Services, which you can watch below.
Flood Insurance Myths
Several myths were addressed during the webinar, including the myth, "I'm already covered — my homeowners policy covers flooding." In fact, most insurance policies do not cover flooding. Only flood insurance covers flood damage.
Another myth is that "If a flood happens, disaster assistance will cover me." However, disaster assistance is only available if the President declares a federal disaster, recipients must qualify, and then typically assistance is given in the form of a loan that must be repaid, with interest.
 
What is the National Flood Insurance Program?
The National Flood Insurance Program, created by Congress in 1968, provides flood insurance to homeowners, renters, and business owners. Policies are written by insurance agencies through approximately 65 companies – or direct with the NFIP (rates and coverage are the same for all agents). The program is administered by FEMA and is available in more than 22,200 participating communities across the country, including Fairfax County.
Getting a flood insurance quote is now easier than ever. Just contact a local agent to learn more and obtain a quote. Anyone with property in a participating community can participate:
Homeowner
Renter
Business (non-residential) property owner
The webinar also explained the NFIP's new Risk Rating 2.0 system, which means:
Rates are changing to reflect flood risk more accurately.
Rates will be specific to each individual property's geographic location and building characteristics.
Some existing policy holders will see rate decreases while others will see rate increases.
The new Risk Rating 2.0 took effect for new policy holders on Oct. 1, 2021, and existing policy holders on April 1, 2022.
 
Community Rating System
The Community Rating System is a voluntary program for recognizing and encouraging community floodplain management activities that exceed the minimum standards set up for the National Flood Insurance Program. The program does this by adjusting flood insurance rates to reflect the reduced flood risks that are a result of community activities that reduce flood losses, facilitate accurate insurance ratings and promote awareness of flood insurance.
Fairfax County has participated in the program since 1993 and is one of five Class 6 jurisdictions in the Commonwealth of Virginia. With this improved rating, residents may obtain flood insurance on properties in Special Flood Hazard Areas at a 20% discount on their flood insurance premiums. Owners whose properties are not in SFHAs, receive a 10% discount.
For questions about Fairfax County's Special Flood Hazard Areas designated by FEMA, or the county's participation in the Community Rating System program, e-mail swpdmail@fairfaxcounty.gov.
 
More Information
Flood insurance can help mitigate financial risks, providing peace of mind to your community and lessening large out-of-pocket costs. For more information about what's covered and to find a policy visit www.FloodSmart.gov. You also can visit the FEMA Map Service Center if you'd like to know if you live in a flood zone.
Our emergency management team has flooding resources, as well as the Community Emergency Response Guide, available in multiple languages: English, Spanish, Korean, Arabic, Mandarin and Vietnamese. Download your copy: