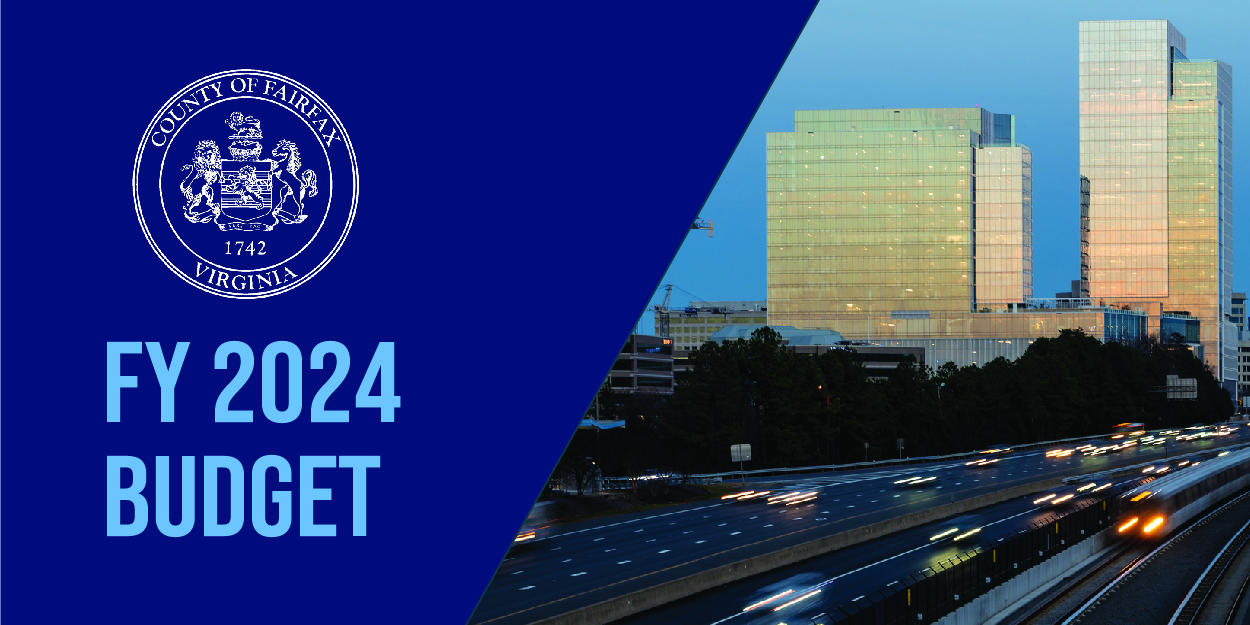 The board's changes to the FY 2024 Budget include 1.5-cent reduction in the real estate tax rate.
The employee compensation plan is fully funded, with additional investments targeting Police Department-specific recruitment and retention challenges.
Additional funding included for human services initiatives as well as parks' forestry and invasives management.
UPDATE: On Tuesday, May 9, the Board of Supervisors adopted the FY 2024 Budget, which incorporates changes reflected in the approved mark-up package outlined below.  The Board also set the FY 2023 Real Estate Tax Rate at $1.095, a 1.5-cent reduction from FY 2023.
The Board of Supervisors approved an FY 2024 Budget Markup package at their meeting today, Tuesday, May 2, reducing the real estate tax rate by 1.5 cents and fully funding the county employee compensation plan, among other changes. The board will adopt the FY 2024 Budget next Tuesday, May 9.
The marked-up budget is based on updated projections related to the Transient Occupancy Tax and investment interest, among other items, which provided additional funding for the changes.
"Thank you to everyone who took the time to have your voices heard. This package takes a balanced approach—investing in our workforce through full compensation plan funding, including the market rate adjustment, additional increases for police officers, car tax relief, a reduced real estate tax rate, and investments in community priorities, particularly our highest priority, the Fairfax County Public Schools," said Board of Supervisors Chairman Jeff McKay. "This budget recognizes the impacts of inflation on our residents and our ability to recruit and retain employees . I am proud of how we have invested in the core county services our residents rely on."
Tax Relief
In addition to the 1.5-cent tax rate reduction, which will reduce the average Real Estate Tax bill increase by more than 20%, from $520 (at the $1.11 rate) to $412, tax relief measures in the board's budget include a 90% vehicle assessment ratio. This change to personal property or "car" tax assessments will save taxpayers a total of almost $64 million. Vehicle values dropped 9.8% on average this year compared to 2022, and 97% of vehicles declined in value or stayed the same for the 2023 tax year, although they remain elevated compared to pre-pandemic values. The FY 2024 Budget also includes $2.7 million to continue implementing enhanced tax relief for seniors and residents with disabilities. In total, the amended budget package provides over $113 million in tax relief.
Employee Compensation
In addition to full funding of the 5.44% market rate adjustment, which will result in an average pay increase of 7.5% for general county employees and 7.83% for uniformed public safety employees, the amended budget includes a 5% scale adjustment for all uniformed police employees and eliminates the first step on that scale. The changes together result in a combined increase of over 15% to the Police Department's minimum starting salary.
The scale adjustment and step change are in addition to last year's implementation of a $15,000 incentive bonus and additional step for eligible police employees, all of which are directed at the county's challenges, also faced by departments around the country, in police recruitment and retention. Pay increases for incumbent police officers will average 12.83%. The department's current recruit class is its largest at the academy in a decade.
The board has also included funding to resolve two issues in the Fire Department rank structure.
Parks
Parks will benefit from additions in the markup package, as well as $900,000 included as part of Third Quarter Review, to manage park tree health and mitigate invasives. Additional funding is included for a mobile nature center, with programming designed to increase accessibility to park resources by bringing programs to communities with little green space.
Funding for Health and Human Services, Other Priorities
The board addressed additional priorities in their markup package, many connected to the countywide strategic plan. Funding for health and human services initiatives includes $500,000 to increase support for hotlines for residents fleeing domestic and sexual violence, stalking and human trafficking. The funds will cover 24-hour staffing support for the Artemis House (shelter) hotline and backup support for the county's hotline. Other items funded in this category include expanding Opportunity Neighborhoods into Centreville, nonprofit projects to make home repairs and accessibility modifications, the recommendations of the Girls Fastpitch Softball Equity Plan Review team and ArtsFairfax initiatives.
More information on the markup package is available online. The board will adopt a final budget on Tuesday, May 9.
For more information visit the Department of Management and Budget.