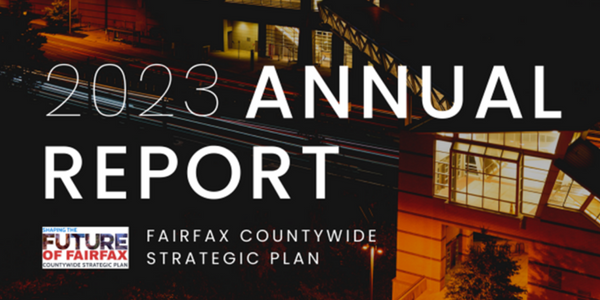 The Fairfax Countywide Strategic Plan 2023 Annual Report, released concurrently with the county executive's FY 2024 Advertised Budget presentation, outlines steps taken over the past year to implement the plan and highlights key actions and progress in the 10 community outcome areas. The plan was adopted by the Board of Supervisors in 2021 and is focused on setting the conditions for meaningful change.
"The year one Countywide Strategic Plan Annual Report incorporates extraordinary work of county employees and other key stakeholders and highlights progress in outcome areas that are important to our community through our One Fairfax equity lens," said County Executive Bryan J. Hill. "I am pleased with our progress to date and look forward to the accomplishments yet to come in shaping the shared future of Fairfax County together."
4 Key Drivers Used To Catalyze Organizational Change
Equity
Equity-driven work is focused on the use of the Communities of Opportunity framework to operationalize One Fairfax, implement recommendations from the Chairman's Task Force on Equity and Opportunity and review deliverables included in the annual report.
Community Outcomes
Staff across all county departments and initiatives collaborated to develop Situation Reports, which align collective progress by issue area and provide a point-in-time baseline look at each of the strategies within the plan and where progress has been made so that these practices can be replicated throughout the county.
Data Integration
A sample data dashboard and data story for the Economic Opportunity outcome area uses "headline metrics" disaggregated by place and population where possible and provides a template for the data development agenda for all 10 outcome areas. 
Inclusive Engagement
An internal site was developed to share all work related to the strategic plan with employees. The site includes a communications toolkit. which serves as a unifying framework for all departments to connect their daily work to the strategic plan.
10 Outcome Areas and Highlights
The 10 outcome areas that reflect priorities of the community and highlights for each area appear below:
1. Cultural and Recreational Opportunities — The overarching vision for this outcome area is that all residents, businesses, and visitors are aware of, and can participate in quality arts, sports, recreation, and culturally enriching activities.
Highlights:

Opened the Sully Community Center, a 36,000 square foot facility which serves as the home of the new Sully Senior Center, a 4,000 square foot Healthcare Suite which provides comprehensive primary care services for people of all ages and abilities.
Launched the Virtual Center for Active Adults, which provides both direct programming and a built-in forum to collect customer feedback.
 

2. Economic Opportunity — The overarching visions for this outcome area is that all people, businesses, and places in Fairfax County are thriving economically.
Highlights:

Provided $52 million in grants through the RISE Relief Grant Program to small businesses to address negative impacts of COVID-19.
Opened the Workforce Innovation and Skills Hub, a unique workforce and technology development center located in the Franconia District.
 

3. Effective and Efficient Government — The overarching vision for this outcome area is that all people in Fairfax County trust that their government responsibly manages resources, is responsive to their needs, provides exceptional services, and equitably represents them.
Highlights:

Established a new Countywide Data Analytics Unit to increase the routine use of data for planning, problem-solving, and decision-making by increasing access to relevant data, fostering integrated analysis and promoting consistency in data sharing practices.
Completed department and cross system Equity Impact Plans, outlining specific goals, activities, and performance metrics aligned to the Countywide Strategic Plan Community Outcomes areas and the One Fairfax Policy areas of focus.
 

4. Empowerment and Support for Residents Facing Vulnerability — The overarching vision for this outcome area is that all people facing vulnerability in Fairfax County are empowered and supported to live independent lives to their fullest potential.
Highlights:

Implemented the Inclusive Community Engagement Framework to address how residents engage with county government; the framework will facilitate inclusive, equitable and authentic community engagement and expand language access, virtual access, and digital access.
Expanded the use of Lobby Navigators for public assistance programs, to direct residents to appropriate services and provide application assistance.
 

5. Environment and Energy — The overarching vision for this outcome area is that all people in Fairfax Count live in a healthy, sustainable environment.
Highlights:

Expanded the Office of Environmental and Energy Coordination to lead cross-organizational development and implementation of the county's environmental, energy and climate policies and programs.
Implemented the Community-Wide Energy and Climate Action Plan to help Fairfax County become more resilient to changing conditions and climate change-related hazards such as extreme heat, severe storms, and flooding. 
 

6. Healthy Communities — The overarching vision for this outcome area is that all people in Fairfax County can attain their highest level of health and well-being.
​​​​​​​Highlights:

Identified and registered 4,075 individuals at equity testing sites and 47,925 individuals at vaccine equity clinics in FY 2021.
Developed Power BI dashboards that display COVID-19 case data stratified by age, race/ethnicity, and geographic area across the county.
 

7. Housing and Neighborhood Livability — The overarching vision for this outcome area is that all people in Fairfax County live in communities that foster safe, enjoyable and affordable living experiences.
​​​​​​​Highlights:

Doubled the county's goal from producing a minimum of 5,000 units by 2034 to creating 10,000 net new units affordable for households earning up to 60 percent of the area median income.
Provided more than $94 million in financial resources dedicated to development and preservation of affordable housing, with money funding from the Affordable Housing Development and Investment fund, Tysons Housing Trust Fund, the American Rescue Plan Act and a variety of state and federal funding sources.
​​​​​​​

8. Lifelong Education and Learning — The overarching vision in Fairfax Count is that all residents at every stage of life are taking advantage of inclusive, responsive and accessible learning opportunities that enable them to grow, prosper and thrive.
​​​​​​​Highlights:

Partnered with Fairfax Futures (nonprofit) on two multi-year initiatives to improve the quality of early childhood education in Fairfax County.
Launched Library Equity Access Pass in partnership with Fairfax County Public Schools to ensure that students have virtual access to library materials.
 

9. Mobility and Transportation — The vision for this outcome area is that Fairfax Count is a place where all residents, businesses, visitors and good can move efficiently, affordable, and safely throughout the county and beyond, via our well-designed network of roads, sidewalks, trails and transit options.
​​​​​​​Highlights:

Opened the Silver Line Metrorail extension which connects the Tysons, Reston, Herndon and Dulles Airport areas of Fairfax County to the regional Metrorail system.
Committed $100 million over a six-year period to pedestrian and bicycle infrastructure.
 

10. Safety and Security — The overarching vision for this outcome area is that all people in Fairfax County feel safe at home, school, work and in the community.
​​​​​​​Highlights: 

Completed pilot and launched the co-responder program with the goals of providing the right service, at the right time, by the right person, linking residents to needed services and maximizing safety for all involved.
Implemented Integrating, Communications, Assessment and Tactics, a widely recognized modernized best practice approach to seeking community-based solutions to address criminal activity.
Resources
Ten Community Outcome Areas Videos Available in Multiple Languages: