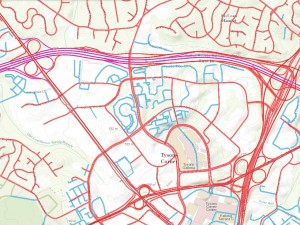 Who maintains your neighborhood road? What about the roads to work or to your favorite restaurant?
Well, there are eight answers!
Virginia Department of Transportation (maintains most roads)
Private
Metropolitan Washington Airports Authority
Municipal (towns/cities such as Fairfax, Vienna, Herndon)
Federal government
Fairfax County Department of Public Works
Fairfax County Park Authority
Fairfax County Public Schools
Our new interactive, searchable map can now tell you who owns what road easily. If you see a pothole or other road maintenance issue, you can find who's responsible.
Who to Contact
Now that you've found who maintains the road in question, here's who to contact:
 
VIRGINIA DEPARTMENT OF TRANSPORTATION
Call 1-800-FOR-ROAD (1-800-367-7623) to report a road problem.
PRIVATE ROADS
Many private roads are maintained by businesses, apartment/condo complexes, homeowner/civic associations or residents. Contact your HOA or the business that's responsible.
FAIRFAX COUNTY DEPARTMENT OF PUBLIC WORKS
If there's an issue on a road maintained by the county, contact 703-877-2800, TTY 711.
FAIRFAX COUNTY PARK AUTHORITY
If the road is maintained by the Park Authority contact park operations at 703-324-8594.
Call 1-855-495-XPRS (1-800-495-9777)
VDOT owns the Express Lanes, but a private company, Transurban, is responsible for maintenance and operations.
FEDERAL