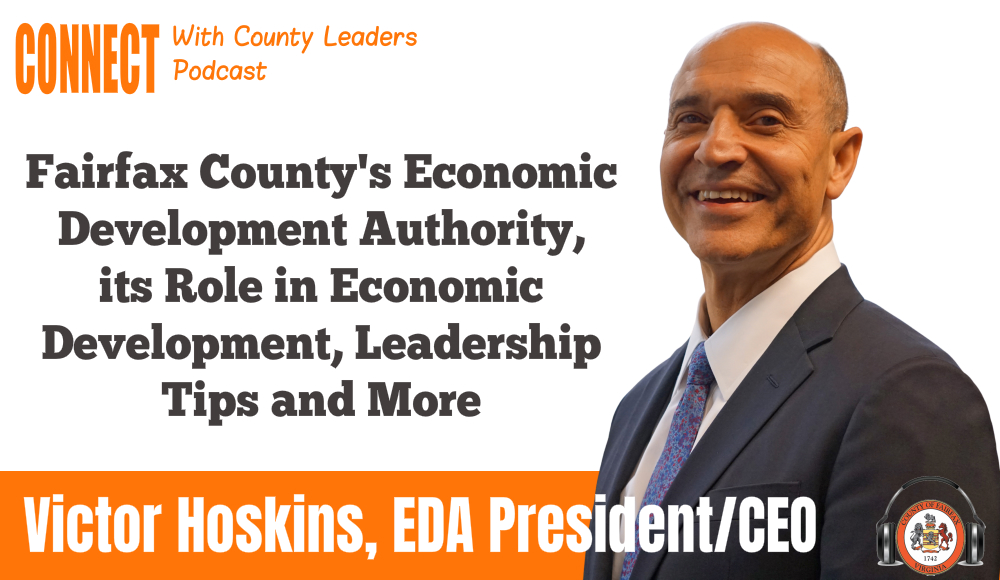 On the December episode of the "Connect with County Leaders" Podcast, Victor Hoskins, president and chief executive officer of the Fairfax County Economic Development Authority (EDA), discusses the EDA's role in Fairfax County, the organization itself and he offers insight into his leadership style that should prove useful for anyone that is a manager or in business.

During the podcast, Hoskins talked about the importance of the EDA's work in relation to the overall well-being of Fairfax County.
"The Economic Development Authority was actually created, believe it or not, 50 years ago, and it was created by special law in the state of Virginia to promote economic growth. And really, in particular for Fairfax County, what that means is to focus on building the commercial office market. The commercial office market is where a substantial amount of the revenue for the county is derived and that really relieves the residential taxpayer of burden. So the more we can move to the business side, the less of the burden on the residential side for services. Services, like police services, fire services, educational services, all the wonderful things that we love about Fairfax County."
Hoskins added that the EDA has been successful with its charge, even during the COVID-19 pandemic. Led by deals in the Dulles Corridor, such as the Microsoft announcement earlier this year that should add 1,600 jobs and take 400,000 square feet of office space in Reston for a software research and development center, Northern Virginia has had "one of the most active office markets in the nation during the pandemic."
"The growth of the office market went from about 25 million square feet, right now to … almost 120 million square feet in Fairfax County of commercial office space. That commercial office market is the second largest in the United States for a county. The only other county in the country that's larger is actually Orange County, in California. So it's a very, very unique situation."
While the work on Fairfax County's EDA continues to be successful, under Hoskins' leadership it has begun diversifying efforts, and coupled with the coronavirus pandemic, have added new initiatives and took on additional roles to maintain and strengthen Fairfax County's business economy. These range from hosting virtual career fairs to working with career placement offices of more than 30 institutions of higher learning, as well as working with the Northern Virginia Hispanic Chamber of Commerce, Women in Technology, Society of Black Engineers and veteran's organizations. The EDA also has worked on upskilling and reskilling programs with NVCC, GMU and private-sector businesses.
The EDA has also worked to connect thousands of Fairfax County businesses with resources and services during the pandemic emergency. This includes getting businesses to SCORE mentoring, banks for PPP and EIDL loans, legal and financial-assistance services through a nonprofit collaboration and marketing the county's $58 million Fairfax RISE program and the microloan program, and the Rebuild VA grant program.
"I've seen this incredible character in the people of Northern Virginia, whether they're in retail service, hotel, commercial, personal service. It's just amazing," Hoskins said. "I know that Virginia is going to come back better than it's ever been, Northern Virginia in particular I believe is going to meet that. And I think it's going to lead that because of what lies within us which is an incredibly strong character."
The Fairfax County EDA promotes Fairfax County as a business and technology center. It offers site location and business development assistance, and connections with county and state government agencies, to help companies locate and expand in Fairfax County. In addition to its headquarters in Tysons, Fairfax County's largest business district, the EDA maintains business investment offices in six important global business centers: Bangalore/Mumbai, Berlin, London, Los Angeles, Seoul and Tel Aviv. The Fairfax County EDA also is a member of the Northern Virginia Economic Development Alliance, which promotes and markets Northern Virginia outside the region and conducts activities and events to build the regional business community.
Listen to past episodes of " Connect with County Leaders." For other Fairfax County podcasts, visit www.fairfaxcounty.gov/podcasts, and for additional audio content, tune in to Fairfax County Government Radio at www.fairfaxcounty.gov/radio.
The "Connect with County Leaders" podcast is a monthly opportunity to meet and connect with Fairfax County leaders, to learn about the latest county news and information, and hear more on specific Fairfax County programs and services.