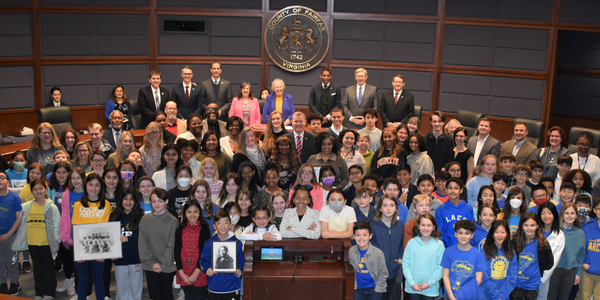 The Historical Marker Project launched as part of the Black/African American Experience Project has generated six new historical markers throughout the county that will be installed over the next year. In February 2022, students and youth groups were encouraged to submit historical marker proposals that shine a light on the contributions Black/African Americans have made to our community.
Students, classes and scout troops submitted a total of 53 proposals of individuals, groups and locations relevant to Black/African American History in the county. Many of those individuals were recognized by the Board of Supervisors at its meeting today. 
From there, a committee of appointees from board offices, community organizations and student representatives reviewed the proposals and selected 14 finalists that would be considered for historical markers. Four members of the History Commission were tasked with reviewing the finalists for feasibility, historical accuracy and ensuring there were no more than one marker per magisterial district. The committee chose six outstanding markers that fulfilled these criteria and were recommended to begin the research and installation process over the next year.
These six markers are:
Louise Archer, an educator, who supported numerous students over her time.
Lillian Blackwell, who sued successfully to ban segregation of movie theatres and public schools.
Annie Harper, who challenged the constitutionality of Virginia's poll tax.
Robert Gunnell, a freedman who conveyed land for Gunnell's Chapel, a 19th century African American Methodist Church.
Colin Powell, who was a long-time county resident, four-star general, chairman of the joint chiefs of staff, founder of America's Promise and the first African American secretary of state. There is an elementary school named after him in Centreville.
December 20, 1856: The 16, which recognizes 16 enslaved individuals named in an 1856 property inventory for the land on which West Springfield High School now stands.
The next step in the process will be working with staff and members of the History Commission to refine the language of the markers, work with a vendor to create the marker and plan installations in the defined locations across the county.
Background
In July 2021, Fairfax County Public Schoos (FCPS) announced it was partnering with the Board of Supervisors to host the inaugural Fairfax County Black/African American Historical Markers Project. It is a joint collaboration involving the Board of Supervisors, FCPS, the History Commission and Neighborhood and Community Services. The project's purpose was to reveal narratives and oral histories of Fairfax County's African American communities, whose rich history, culture and accomplishments are underrepresented in history books and not fully understood in relation to the county's transformation over time.
Board of Supervisors Chairman Jeffrey C. McKay; Supervisors Dalia A. Palchik, Rodney L. Lusk,and Kathy L. Smith; and School Board Member Karl Frisch spearheaded the project, which aligns with the boards' joint One Fairfax policy to intentionally consider equity when making policies or delivering programs and services.