Fairfax County, Fairfax County Public Schools (FCPS) and Northern Virginia Community College (NOVA) signed a letter of intent to offer educational and career certification programs at the Original Mount Vernon High School. The redevelopment of the Original Mount Vernon High School is part of the revitalization plans embodied in Embark Richmond Highway.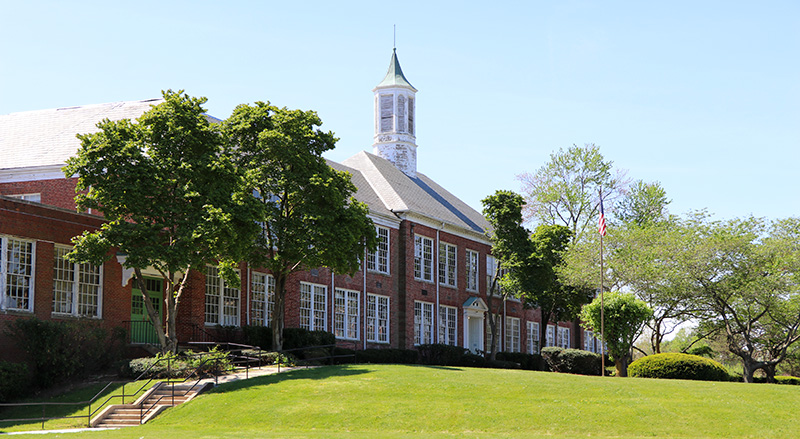 "I am thrilled that the county has entered into an agreement with NOVA to partner toward incorporating a learning academy at the Original Mount Vernon High School," said Mount Vernon District Supervisor Dan Storck. "This is a culmination of years of effort by myself, Supervisor McKay and School Board Chair and Mount Vernon District Representative Karen Corbett Sanders to bring new opportunities to the Richmond Highway Corridor, which has been substantially underserved in the areas of higher education and human development. As we work to create a community hub and human development center at this central location, our goal is to provide opportunities for innovation, business incubators, college access, recreation, child development and the arts, with NOVA and FCPS providing important education components."
The nonbinding agreement provides a framework for the public schools, college and county to:
Expand workforce training and certification programs that lead to employment with a focus on IT, cyber-technology, health and hospitality and culinary arts.
Expand training and workforce development for early childhood educators.
Develop a plan to establish a dual enrollment program to offer college credits to high school students, as well as possibly develop an Early College High School.
Offer high-quality, affordable, early learning and development programs for initially up to 160 children from birth to age 5.
"I'm thrilled that we have reached yet another major milestone as part of our progress at the Original Mount Vernon High School," said Lee District Supervisor Jeff McKay. "The new agreement signed last week brings us further to turning these plans into a reality, and brings us one step closer to benefiting the folks on the Route One Corridor and keeping our promise to revitalize the area as part of our Embark vision. I look forward to continuing to work with all of our community stakeholders on this important work."
School Board Chair and Mount Vernon Representative Karen Corbett Sanders said, "The importance of having access to college level educational opportunities and career certifications for students and families in Mount Vernon and Lee has been a priority for community leaders. The inclusion of NOVA in the redevelopment had the full support of the community when it was presented to the Board of Supervisors in 2015. The letter of intent is the result of the efforts of the NOVA's leadership, the schools and the county working together to more fully realize these opportunities for a community that does not have ready access to college and career training available in other areas of the county. We are thrilled to see this becoming a reality at the Original Mount Vernon High School location."
As potential anchor tenants in the planned re-use of the former high school located at 8333 Richmond Highway, Northern Virginia Community College and Fairfax County Public Schools bring community linkages to the knowledge and skills that can build pathways to employment and entrepreneurship opportunities.
"NOVA sees the need for a higher education presence in this underserved area and looks forward to continuing to work with state and local officials to explore educational and training opportunities that fit and could make a real difference," said Dr. Mel Schiavelli, NOVA's interim president.
The overarching vision is to leverage the former high school to build communities of opportunity, create career pathways, connect different generations and better integrate residents into the economy.
Per the letter of intent, the county, schools and college will work together to determine space needs for each program, cost and scope of need for necessary renovations and cost responsibilities, to include future lease payments. They will create a strategic document that includes interim and long-term educational uses by Aug. 30, 2019.
A master development planning process for the former high school began in spring 2018. The planning phase is expected to conclude this spring, with priority placed on the renovations and adaptive reuse of the historic high school structure. Additional community engagement opportunities will be held before planning is completed.
The former school building, built in 1939, is listed on the National Register of Historic Places and the Virginia Historic Landmarks Register. The adaptive reuse of the historic building and surrounding campus is being led by the Fairfax County Department of Public Works and Environmental Services' Public Private Partnerships Branch. A community visioning task force provided recommendations in 2015 that included higher education in the building and early childhood education.
This agreement also advances the county's and public schools' commitment to One Fairfax, a racial and social equity policy jointly adopted by the Fairfax County Board of Supervisors and Fairfax County School Board in 2017. In addition to the education programming in the building, there are plans to create an approximately 11,000-square-foot teen and senior center to offer indoor and outdoor recreation.
For more information, contact the Fairfax County Office of Public Affairs at 703-324-3187, TTY 711.
#  #  #