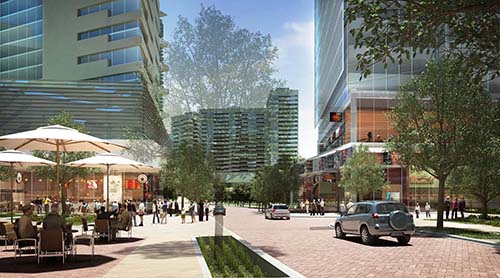 One of the largest Tysons redevelopment plans to date got the green light to move forward from the Fairfax County Board of Supervisors during their April 9, 2013, meeting. This is the third major plan the board has signed off on.
Almost two-times the size of its other development in Tysons— Arbor Row—CityLine Partners' Scotts Run South project will add more than 6.6 million square feet of mixed use development near the future McLean Metro station.
This project will erect 17 new buildings, including office, residential, retail and a hotel. Scotts Run South will replace much of the existing West*Gate office park. The majority of Scotts Run will be within a quarter mile from the McLean station, the easternmost rail stop in Tysons.
The more than 30-acre project is separated by Scotts Run Park. Most of the development sits to the east of the stream valley park on a 23-acre site, along Route 123 near the intersection of Colshire Drive. The plan calls for 13 new buildings—six office, six residential, and one hotel.  These account for more than 5.1 million square feet of the total development.
To the west of the park, the development covers two parcels, totaling 6.9 acres, along both sides of Old Meadow Road from Route 123 to Colshire Meadow Road. This portion of Scotts Run includes four buildings—one apartment and three high-rise office buildings up to 350 feet tall.
While most of the development will be built over time as market conditions allow, CityLine submitted two final development plans, which would allow construction to begin quickly. These plans include two residential buildings with up to 440 units located between Chain Bridge Road and Anderson Road.  Also included is a 225-foot, 340,000 square foot office building on 2.94 acres associated with the MITRE office park.
The plan incorporates many features that move forward Fairfax County's goal to turn Tysons into a walkable, environmentally friendly, 24/7 urban center, including:
Green Buildings: Residential buildings will attain LEED® certification while the non-residential buildings will achieve LEED Silver® standards. CityLine also will install one electric vehicle charging station in each parking garage. Additionally, they will provide the space and infrastructure for additional charging stations in the garages.
Parks: The plan includes five new urban parks spread across about 3.6 acres, including a playground, two basketball courts, civic space, corner plaza, new naturalized park area. The approximately 12,000 square foot park along Anderson Road includes a playground. A 28,000 square foot civic plaza will offer ornamental landscaping and a water feature or splash pad for kids. Another 1.5 acre naturalized park will connect the development to the existing Scotts Run Park.
Athletic Field: The developer will provide a turfed, lighted athletic field off-site, co-located with a new fire station that it will build. While not a full-size field, it will be designed so it can be easily expanded to a full field in the future. The field will be available no later than three years after the fire station is built.
Stream Restoration: CityLine will restore Scotts Run from Route 123 to a point that's roughly 600 feet south of the Colshire Meadow Drive bridge. As part of the restoration plans, they also will construct a series of paths, bridge, public art, boardwalks, reflection points and stairway or ramp to access the stream valley park.
Workforce Housing: Following the county's goal for Tysons, 20 percent of the residential units will be affordable housing.
CityLine also has committed to building a 15,000 square foot, free-standing fire station off-site  on Old Meadow Lane. Based on county projections, a new station will be needed in this part of Tysons within seven years, and the developer must provide the new station no later December 31, 2020.
Scotts Run South is one of the 18 major redevelopment applications for Tysons. Collectively, these applications propose more than 36 million square feet of new development. If all approved, these projects will generate an estimated 29,000 new residents and 58,000 new employees during the next 20 years or longer.
Under the county's transformation plan, Tysons will become a green, walkable urban center. By 2050, Tysons will be home to up to 100,000 residents and 200,000 jobs.
#  #  #