News Highlights
Unlike other economic development plans, Fairfax's Economic Success Plan uniquely focuses on social equity because it can boost economic growth and productivity. The plan includes more workforce training, expanding access to pre-K education, housing and more.
One analysis finds that Fairfax County's GDP would have been $26.2 billion greater in 2012 if racial gaps in income were closed.
Education produces economic benefits for individual people and society.
As Fairfax County leaders work to grow and diversify the economy, they are looking beyond traditional ways to boost growth.
Unlike many economic development plans, county officials are putting an emphasis on social equity—that is ensuring residents have access to education, housing, employment, and other opportunities.
"One of the unique elements of our plan is the inclusion of social equity as primary component," says Deputy County Executive Rob Stalzer. "We're broadening our understanding of why social equity is so important in terms of future economic success."
The county recently brought social equity expert, john a. powell, to discuss the topic with senior leaders. Powell, a Berkeley University professor who directs the Hass Institute for a Fair and Inclusive Society, is known for his work on equity, race, poverty and civil rights.
Along with many economists, Fairfax recognizes that social equity—or the lack of it—can either help or hurt economic performance.
Social equity boosts growth because it means investing in what economists call human capital—or people's education, training and skills. In today's knowledge economy, this investment leads to greater productivity and innovation that benefits everyone.
This is why Fairfax County's Economic Success Plan focuses on expanding access to education; encouraging more science, technology, engineering and math education; delivering workforce training; and ensuring everyone can reach their highest potential.
Inequality Hinders Economic Growth: a $26.2 Billion Impact in Fairfax
Two years ago, ratings agency Standard & Poor's warned that inequality is "dampening" the nation's economic growth. In its report, S&P scaled back its growth forecast over the next decade as a result of this rising inequality.
Since 1980, inequality lowered U.S. economic growth by 15 to 20 percent, according to Harvard economist Nathaniel Hendren. His recent research concluded this amounted to a social cost of about $400 billion.
Locally, inequality also may carry a high price tag. Fairfax County's gross domestic product would have been $26.2 billion higher in 2012 if its racial gaps in income were closed. This finding comes from an analysis conducted last year by PolicyLink and University of Southern California's Program for Environmental and Regional Equity, two national research institutes.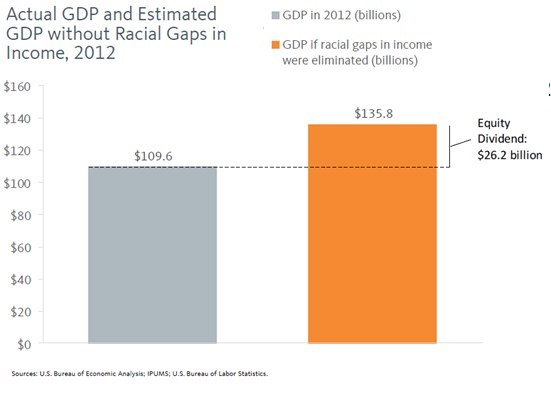 Social inequality also inhibits innovation, one of the drivers of new job growth. Looking at patents issued, a common measure for innovation, researchers found that children born to wealth families are more likely to get one later in life. The group from Harvard, U.S. Treasury and London School of Economics came to this conclusion after they compared 1.5 million patent filing, tax records and school test scores.
The difference between children from high and low income families is stark. The patent rate is 22.5 patents per every 10,000 children for those whose parents are in top 1 percent for income. In contrast, just 2.2 patents are received per every 10,000 children for those whose family income falls below the U.S. median.
This gap results from education, not natural differences in talent or ability. Children from wealthier families are more likely to attend top colleges, and this explains 90 percent of the relationship between income and patent rates, researchers found.
Education Is a Key to Social Equity
"Investing in education builds a strong and inclusive society in a number of ways," says john a. powell, a social equity expert at Berkeley. "It actually increases earnings, the earnings of the person who is educated. It also increases the tax base and revenue for society. It also increases social inclusion. The more educated they are the less likely they are to be involved in crime, less likely they are to drop out of school, to go to prison."
Education's economic benefits are enormous, especially for early education.
Researchers studied children who attended a pre-K program in Michigan compared to a control group. This long-term study found that the program produced a $16 return for every dollar invested. Of this total, almost $13 dollars was returned to the public through higher tax rates and lower public service costs. Program participants got more than $3 in value through higher wages and other benefits. They earned 14 percent more than their peers, for example.
This study helps demonstrates why Fairfax County's economic success plan aims to expand access pre-K education.
S&P, among others, have found that more education results in greater economic growth. They projected that if Americans completed just one more year of school this would result in a 2.4 percent increase in GDP over five years. This productivity gain would add about $525 billion to the U.S. economy.
 ###