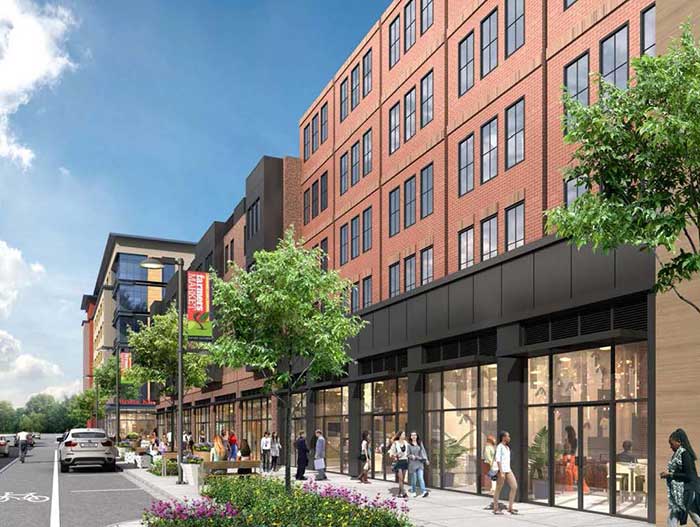 Reston Midline's 1.8 million square feet in mixed-used development became the latest major development approved near the Wiehle-Reston East Metro Station.
The Fairfax County Board of Supervisors approved JBG and EYA's development plan on Dec. 4, 2018.
The action allows the development team to remake the 17.5-acre property located on the south of Sunset Hills Road between Wiehle Avenue and Michael Faraday Drive.
This property lies within a half-mile east of the Metro station, joining Comstock's approximately 3 million square feet in approved, mixed-use development next to this rail stop.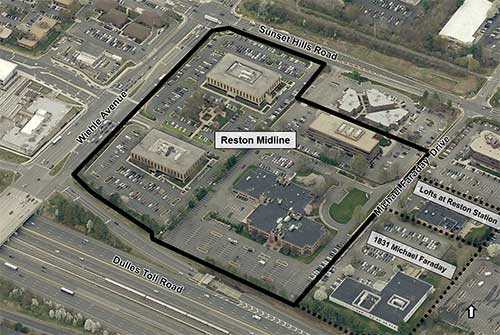 Today, the site is developed with four low-rise office buildings and a surface parking lot that were built from the mid-60's to mid-80's.
Residential Development in Four New Urban Blocks
Primarily residential, Reston Midline is planned for eight buildings spread across four new blocks. In total, it will offer 1,058 dwelling units, 259,845 square feet in office space and 251,150 square feet in ground floor retail: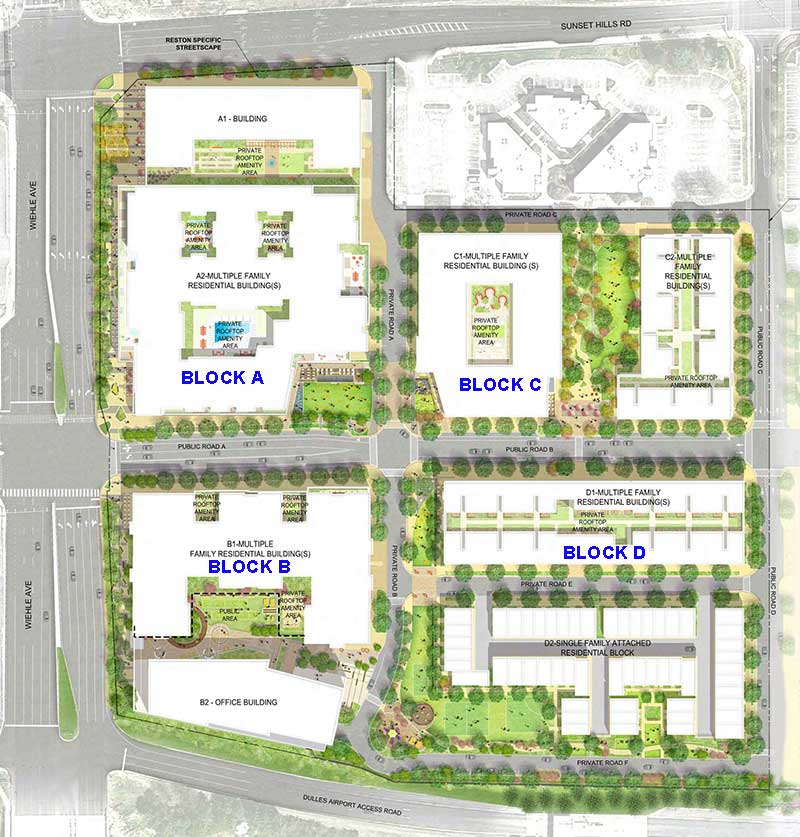 Block A: Located at the intersection of Wiehle Avenue and Sunset Hills Road, this block includes an eight-story, independent living facility with 127 units and an eight-story, 325-unit apartment building.
Block B: Located along Wiehle Avenue, north of the Dulles Toll Road, this block features a 14-story office building—the tallest in the development—plus an eight-story, 225-unit apartment building.
Block C: South of Sunset Hills Road along Michael Faraday Drive, this block consists of a seven-story, 218-unit apartment building, along with a six-story apartment building with 39 units.
Block D: A six-story apartment building with 70 units, plus 56 townhomes, make up this block located north of the Dulles Toll Road along Michael Faraday Drive.
The project will set aside 14 percent of residential units for affordable housing. The entire development also includes ground-floor retail in every building except the office and townhomes.
The county's approval also allows JBG and EYA to pursue two alternative development plans for blocks C and D. On block C, the smaller of the two apartment buildings could be replaced with 35 townhomes. On block D, the apartment building could grow to a nine-story building with 90 units and an additional 24 townhomes would be added.
Road, Bike and Bus Improvements
The development team will make two major road improvements that will help to build out the local street grid in this area. They will extend Reston Station Boulevard from Wiehle Avenue to Michael Faraday Drive, and they will construct new lanes on Michael Faraday along the development's frontage. This completes the construction of Michael Faraday Drive into a two-lane road with street parking and bike lanes. Two developments on the east side of Michael Faraday Drive will complete the other half of this road.
To provide a connection to the W&OD Trail, JBG and EYA will add a new crosswalk and pedestrian signals at the intersection of Sunset Hills Road and Michael Faraday Drive. A new, high-visibility crosswalk will also be built at the intersection of Reston Station Boulevard and Wiehle Avenue to make a pedestrian connection to the Silver Line station.
The project also provides on-road bicycle lanes along Wiehle Avenue, Reston Station Boulevard, Sunset Hills Road and Michael Faraday Drive. The lanes on Reston Station Boulevard and Michael Faraday will help provide access to the Metro station, and the project includes a 15-dock bikeshare station.
Four, future Fairfax Connector bus stops will be included with the development—one each on Wiehle Avenue, Reston Station Boulevard, Sunset Hills Road and Michael Faraday Drive.
New Urban Parks
Reston Midline dedicates 29 percent of its site as open space, more than recommended by the county's land use plan. The nearly three acres in parks, includes: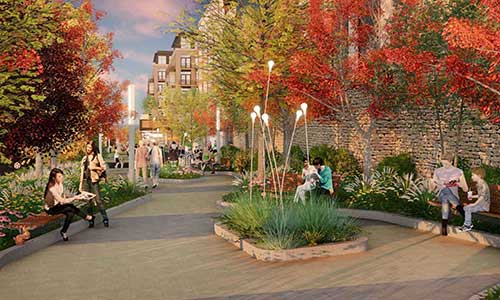 Wiehle Avenue Promenade: This is a two-block, linear park along Wiehle Avenue that includes public art, accent lighting, landscaping, tree bosque, bicycle racks, game tables and outdoor seating and tables.
Block B Park: Accessed by staircases at either end, an elevated park will be located on top of a parking garage between the apartment and office buildings on this block. Its main feature will be an artificial-turf lawn that will provide space for games like bocce ball, game tables, moveable furniture and landscaping.
Front Porch Park: Located along Reston Station Boulevard at the southwest corner of block C, this 15,180-square-foot park is intended to be the development's central gathering space. It will be designed with an event lawn, water feature, shade structure, seating, bicycle racks and outdoor dining areas.
Surrounding Development on North Side of the Metro Station
Reston Midline will rise up next to other mixed-used developments approved for this area. To the west, Comstock's Reston Station Promenade will put 1.3 million square feet directly across from Reston Midline. Immediately adjacent to the Silver Line station, Comstock's Reston Station project was approved for 1.7 million square feet.
To the east, two residential developments have been approved along Michael Faraday Drive. Pulte's Lofts at Reston Station was greenlighted for townhomes and an apartment building, and similarly, Rooney Properties' 1831 Michael Faraday Drive project will offer townhouses and apartments.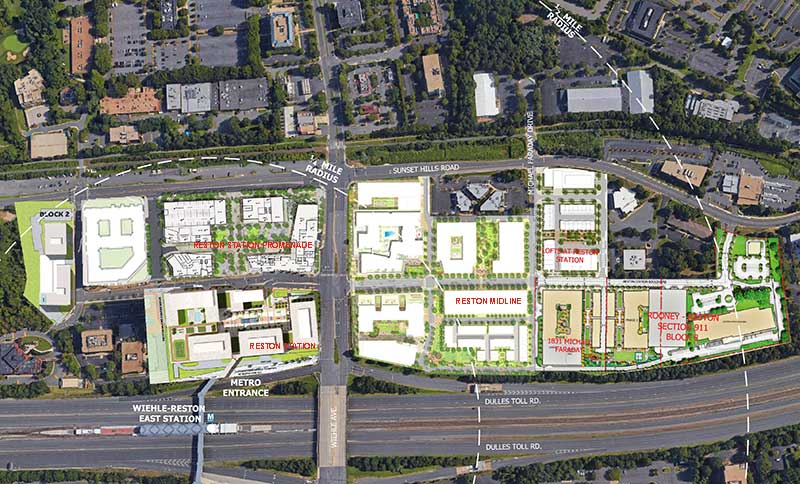 #  #  #