For most Americans, "9-1-1" is synonymous with a call for help to local police, fire and rescue and medical emergency services. But the road to establishing a universal system for seeking—and delivering—emergency services has been long, both around the world and here in Fairfax County.
Here is a brief history of the evolution of 9-1-1 and Public Safety Communications: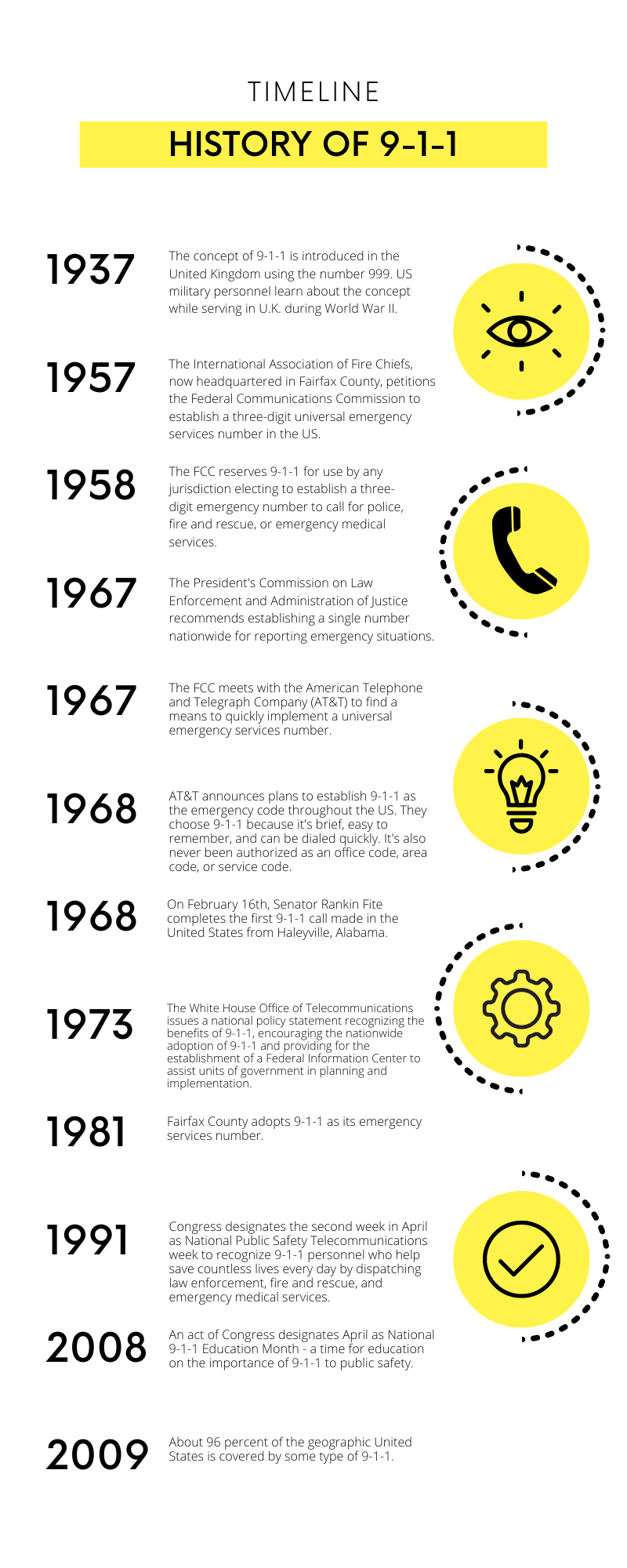 1937: The concept of 9-1-1 is introduced in the United Kingdom using the number 999. U.S. military personnel learn about the concept while serving in the U.K. during World War II.
1957: The International Association of Fire Chiefs (IAFC), now headquartered in Fairfax County, petitions the Federal Communications Commission to establish a three-digit universal emergency services number in the United States.
1958: The FCC reserves 9-1-1 for use by any jurisdiction electing to establish a three-digit emergency number to call for police, fire and rescue or emergency medical services.
1967: The President's Commission on Law Enforcement and Administration of Justice recommends establishing a single number nationwide for reporting emergency situations-to replace different numbers used for each type of emergency.
1967: The FCC meets with the American Telephone and Telegraph Company (AT&T) to find a means to quickly implement a universal emergency services number.
1968: AT&T announces plans to establish 9-1-1 as the emergency code throughout the United States. They choose 9-1-1 because it's brief, easy to remember and can be dialed quickly. It's also never been authorized as an office code, area code or service code.
1968: On February 16, Senator Rankin Fite completes the first 9-1-1 call made in the United States from Haleyville, Alabama.
1973: The White House Office of Telecommunications issues a national policy statement recognizing the benefits of 9-1-1, encouraging the nationwide adoption of 9-1-1 and providing for the establishment of a Federal Information Center to assist units of government in planning and implementation.
1981: Fairfax County adopts 9-1-1 as its emergency services number.
1991: Congress designates the second week in April as National Public Safety Telecommunications week to recognize 9-1-1 personnel who help save countless lives every day by dispatching law enforcement, fire and rescue and emergency medical services personnel.
2008: An act of Congress designates April as National 9-1-1 Education Month—a time for education on the importance of 9-1-1 to public safety.
2009: About 96 percent of the geographic United States is covered by some type of 9-1-1.
---