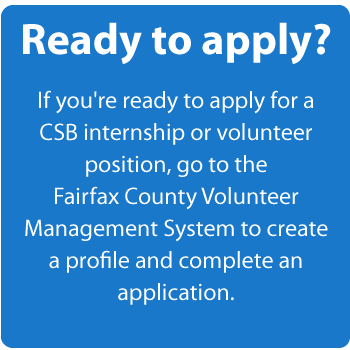 The Fairfax-Falls Church Community Services Board's (CSB) Intern and Volunteer Program offers a wide range of volunteer opportunities where you can use your ideas, talents and expertise to help people we work with in our community. Explore our website to learn more about our agency.
CSB volunteer opportunities are available at our sites throughout Fairfax County. We welcome volunteers with all kinds of abilities and disabilities - we can work with you to find a meaningful volunteer experience. Our volunteer opportunities change frequently, and can include such things as:
Mentoring individuals in recovery
Teaching new skills
Leading expressive or creative arts
Helping with office tasks
Translation assistance
Grounds keeping and gardening
Transporting individuals in recovery in county vehicles to critical appointments
Helping staff with special projects
And many others.
Interested in becoming a CSB volunteer? Go to the Fairfax County Volunteer Management System to learn about our current volunteer opportunities. Then, create a profile and apply for an opportunity. Applicants should expect to participate in at least two interviews – one with Intern and Volunteer Program staff and one with the supervisor of the volunteer opportunity. All volunteer opportunities require onboarding paperwork to be completed, reference checks, and required TB test screening. In addition confidentiality and human rights training must be completed. Some volunteer opportunities require a background check. After completing these requirements, volunteers can begin to enjoy the rewards of personal growth and service to others.
Have questions?
Have questions about becoming a volunteer or intern with the CSB? Contact Evette Watson, Intern and Volunteer Program, 703-383-8434 .