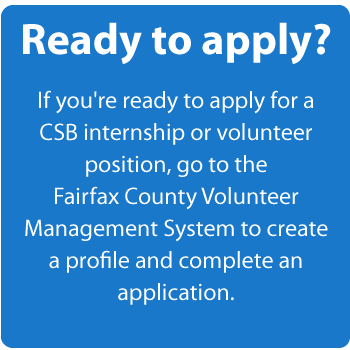 Thank you for your interest the CSB's Intern and Volunteer program! The CSB partners with individuals, families, and the community to empower and support Fairfax-Falls Church residents with or at risk of developmental delay, intellectual disabilities, mental illness, and alcohol or drug abuse or dependency. Explore our website to learn more about our agency. Our vision is that everyone in our community has the support needed to live a healthy, fulfilling life. In achieving our mission and vision, we value and respect the people we serve and provide quality services while being accountable in all that we do.
We provide vital services for more than 22,000 residents and families of Fairfax County and the Cities of Fairfax and Falls Church. We also provide vital health and wellness outreach and training opportunities to increase public knowledge and awareness.
As an intern or volunteer with the CSB, you are a valued team member, helping to expand and enhance our services which have a powerful impact on the individuals we work with and promote recovery and empowerment. You may provide direct service, offer administrative support, or help with special projects. You will have orientation and on-site training, skill development and supervision in an environment rich with opportunities for professional and personal growth.
Flexible times and days are available. Opportunities are available throughout Fairfax County and the cities of Fairfax and Falls Church.
To continue exploring, follow the links below!
Volunteer and student internship opportunities with the CSB
For information about the programs and services provided by the CSB
More about internships and volunteering with the CSB
Have questions?
Have questions about becoming a volunteer or intern with the CSB? Contact Evette Watson, Intern and Volunteer Program, 703-383-8434.