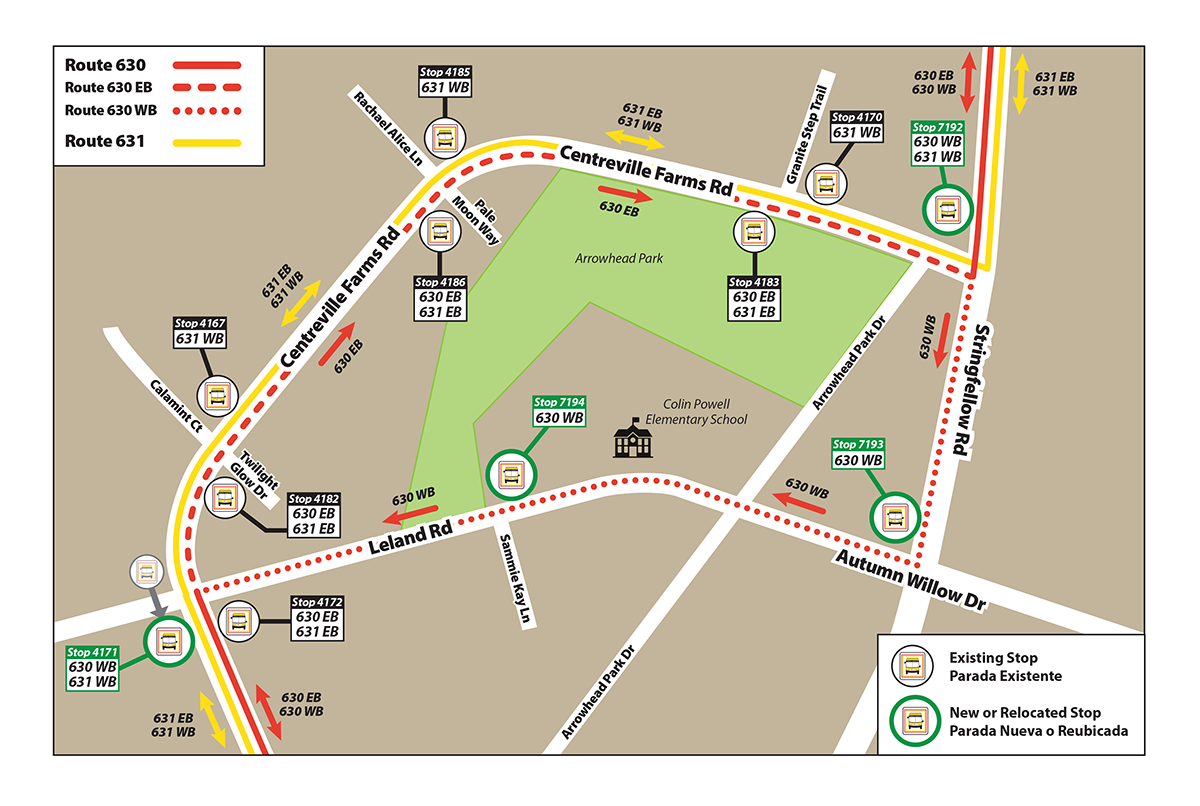 Effective Monday, March 1, 2021, Route 630 westbound will be re-routed to travel via Stringfellow Road (south of Centreville Farms Road) to Autumn Willow Drive and Leland Road. Route 630 eastbound and Route 631 (both directions) are not impacted and will serve their regular stops.
Route 630 westbound Detour Map (PDF)
Route 630 westbound will no longer serve Stop ID #'s 4167, 4185, 4170. Stop ID# 4171 will be moved across the street to the south side of Leland Rd.
Passengers should use new bus stops ID# 7192 located on Stringfellow Road, ID# 7193 on the corner of Stringfellow Road and Autumn Willow Drive, and ID# 7194 on the corner of Leland Road and Sammie Kay Lane.
Passengers are advised that Fairfax Connector BusTracker information for bus stop ID# 4171 will not be accurate until July 1, 2021. BusTracker information for the new stops ID# 7192, ID# 7193 and ID# 7194 will be available July 1, 2021.   
Stay Informed
Sign-up for email and/or text alerts for your routes through Fairfax Connector BusTracker. **Watch a :30 video on how to use Fairfax Connector BusTracker here.**
Call Fairfax Connector customer service at 703-339-7200, TTY 703-339-1608; Regular hours: Mon - Fri 5 a.m. to 10 p.m., and Sat - Sun 7 a.m. to 9 p.m. Se habla Español.
###