(Posted 2021 November)
Fairfax County now participates in the Hope Card program, a way to enforce a civil protective order and a handy resource for victims of family abuse. A Hope Card is a laminated wallet-sized card that contains all the essential information of an existing, permanent civil protection order.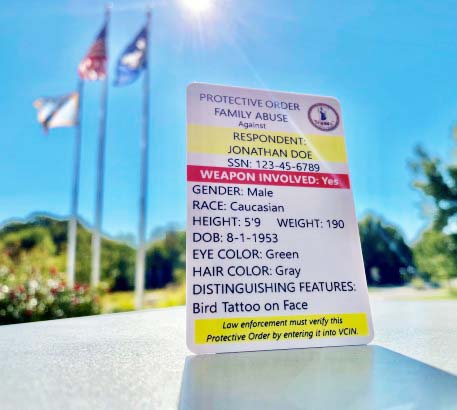 Hope Cards have been around for a while; they've been in use in Virginia since 2016, according to Jaime Clemmer, HOPE Card program coordinator with the Supreme Court of Virginia, and they were created in Montana in 2004. But they are a new resource in Fairfax County for victims of family violence, intimate partner violence, stalking or sexual assault.
Though not a substitute for protective orders, a Hope Card lets law enforcement know there is a valid, permanent Order of Protection in place. In case of a potential violation of an order, a law enforcement officer can refer to the Hope Card for more information. The card includes relevant information related to a valid, permanent protection order, including identifying characteristics of the person being ordered to stay away (name, sex, race, eye and hair color, height, weight and any distinguishing features like scars or tattoos), as well as information about the person and any children protected by the order.
The Hope Card can reduce the time on scene for officers responding to incidents of protection order violations, allow officers to verify if there is a valid protective order in place and can provide a sense of security to victims. It also helps keep officers safer by informing law enforcement about weapons involved in the incident resulting in a protective order. 
"Hope Cards are easy to read. Official 2-page protective order documents are cumbersome," Clemmer says. "They can be easily carried by minor protected parties, quickly identify no-contact information for law enforcement, quickly identify weapons involvement for law enforcement, are generally easier to read to ascertain basic protective order information, and free."
The Fairfax County Police Department in partnership with the Fairfax County Sheriff's Office, the Fairfax County Juvenile and Domestic Relations Court and other community partners, including the Domestic Violence Action Center (DVAC), have joined more than five dozen jurisdictions in Virginia in offering Hope Cards.
For more information about the Hope Card or to find out how to obtain one, contact DVAC at 703-236-4573, the Fairfax County Police Department's Victim Services Division main line at 703-246-2141 or the Virginia Supreme Court.
Learn more about the services and resources Domestic and Sexual Violence Services provides online or by calling the Domestic and Sexual Violence 24-Hour Hotline 703-360-7273.
---
This posting is part of the Department of Family Services' Community Corner where you'll find timely information about upcoming events, parenting and wellness tips, programs and services, and more! Share these helpful posts with your friends and family. Don't miss out on future postings! Sign up today!
For
media inquiries
, contact Department of Family Services' Public Information Officer
Amy Carlini
by
email
, office phone 703-324-7758 or mobile phone 571-355-6672.
---