(Posted 2021 June)
The Disability Information and Access Line (DIAL) is available to people with disabilities looking for assistance in scheduling their COVID-19 vaccination and finding accessible transportation to the appointment. Call 888-677-1199 or email.
If you have trouble leaving your home and are on Medicare, you may qualify to get the COVID-19 vaccine at home. The Vaccine Equity Clinic on Route 1 in Alexandria also offers free transportation to those who want to get vaccinated at the clinic. Call 703-324-7404.
The CDC has several videos available in American Sign Language on COVID-19 and COVID-19 vaccinations. Other COVID-19 resources are available from the Virginia Department of Health.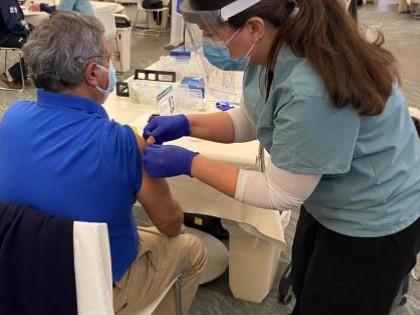 All individuals in the Fairfax Health District who are 12 or older are eligible to receive a COVID-19 vaccine. COVID-19 vaccines are free of charge to all people living in the United States, regardless of their immigration status. No health insurance is needed.
The vaccine is available at locations throughout the Fairfax Health District, including private healthcare providers, pharmacies, grocery stores, urgent cares, and the Health Department.
To schedule a vaccination appointment, go to Vaccines.gov or Vacunas.gov (Spanish) for the widest selection of vaccination locations or visit the Health Department's website. If you need assistance in another language or are not able to schedule an appointment online at a Fairfax County Health Department clinic, contact our Vaccine Call Center at 703-324-7404. 
The COVID-19 Language Portal has select information about COVID-19 translated into top languages spoken in Fairfax County.
 
Learn more from the Health Department about Coronavirus (COVID-19). Call the Health Department at 703-267-3511 with Coronavirus questions or call 703-324-7404 for questions about COVID-19 vaccines.
---
This posting is part of the Department of Family Services' Community Corner where you'll find timely information about upcoming events, parenting and wellness tips, programs and services, and more! Share these helpful posts with your friends and family. Don't miss out on future postings! Sign up today!
For
media inquiries
, contact Department of Family Services' Public Information Officer
Amy Carlini
by
email
, office phone 703-324-7758 or mobile phone 571-355-6672.
---