(Posted 2020 April)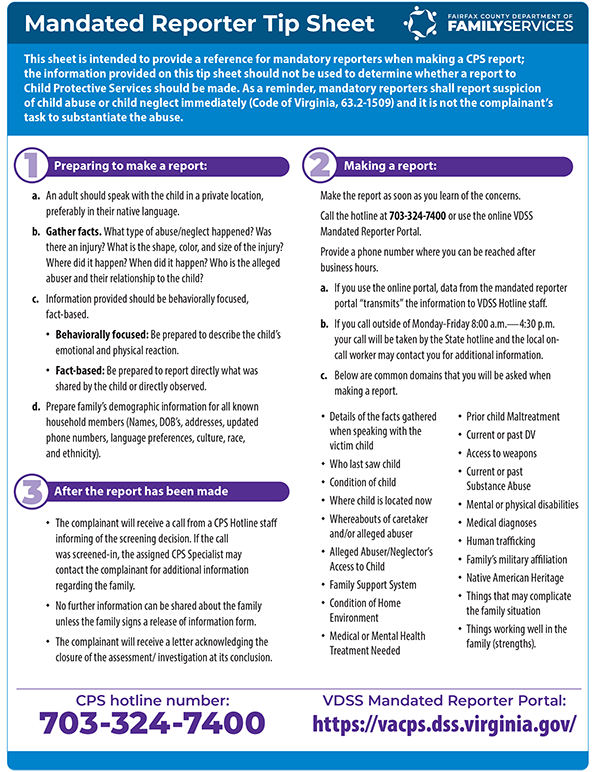 Are you a teacher, social worker, child care provider, nurse? If so, you are a mandatory reporter for child abuse and neglect. If you have any reason to suspect a child has been abused or neglected, you are required to make a report through the Child Protective Services (CPS) Hotline. DFS has created a tip sheet for mandatory reporters.
These tips are intended to provide a reference for mandatory reporters when making a CPS report; the information provided in these tips should not be used to determine whether a report to CPS should be made. As a reminder, mandatory reporters shall report suspicion of child abuse or child neglect immediately (Code of Virginia, 63.2-1509) and it is not necessary for the reporter to have proof of abuse or neglect. Review the list of all legally required mandatory reporters.
The mandated reporter tip sheet breaks it down in three steps.
Preparing to make a report.
Making a report.
After the report has been made.
Learn more details about the three steps and download the tip sheet.
Check out frequently asked questions about child abuse and neglect and Child Protective Services (CPS).
---
For
media inquiries
, contact Department of Family Services' Public Information Officer
Amy Carlini
by
email
, office phone 703-324-7758 or mobile phone 571-355-6672.
---
This posting is part of the Department of Family Services' Community Corner where you'll find timely information about upcoming events, parenting and wellness tips, programs and services, and more! Share these helpful posts with your friends and family. Don't miss out on future postings; sign-up today!