(Posted 2020 June)
Foster parents from 10 jurisdictions across the District of Columbia, Maryland and Virginia have been named 2020 Foster Parents of the Year by the Metropolitan Washington Council of Governments. COG partners with local and state child welfare agencies around the region to recognize these outstanding parents on an annual basis. The Foster Parents of the Year will also be recognized before the COG Board of Directors in September.
Danielle and Jesse Dredge were named the Fairfax County Foster Parents of the Year. The Dredge family has provided Fairfax foster children with stability, structure, nurturing, and connection. The Dredge family has fostered a sibling set of brothers, a teen mother and her child, and a teen male. With each placement they have been influential in how they manage the children's adjustment to their placement, provide interventions and strategies when children have noted struggles, set clear boundaries, and worked with the child and biological family toward reunification.
Get to know the Dredges and learn why they want to make a difference in the lives of children through foster care.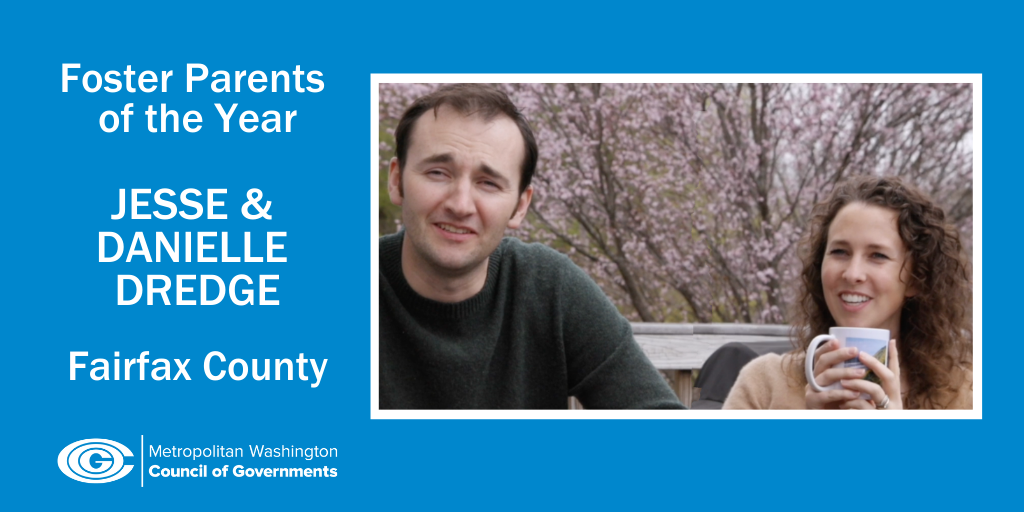 ---
This posting is part of the Department of Family Services' Community Corner where you'll find timely information about upcoming events, parenting and wellness tips, programs and services, and more! Share these helpful posts with your friends and family. Don't miss out on future postings; sign-up today!