(Posted 2020 November)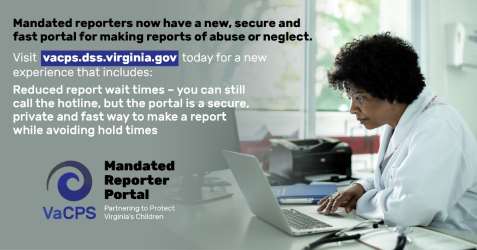 The Fairfax County Department of Family Services, and other local departments of social services (LDSS), are responsible for processing and investigating reports of child abuse and neglect.
To support this work, the Virginia Department of Social Services' (VDSS) Division of Family Services has announced the release of a new Mandated Reporter Portal, which provides a secure, fast, and convenient way for Mandated Reporters in Virginia to submit reports of suspected child abuse and neglect. Watch a brief YouTube video overview of the new portal.
Are you wondering if this applies to you? Simply put, a mandated reporter is an individual who in their professional or official capacity (such as social worker, physician, teacher, counselor, athletic coach or religious practitioner) is legally required to report to Child Protective Services (CPS) any cases of child abuse or neglect that he or she has reasonable cause to suspect.
The general public and mandated reporters can still report child abuse and neglect through the Fairfax County DFS 24/7 CPS Hotline at 703-324-7400; or if you live outside of Fairfax, contact the VDSS statewide 24/7 CPS hotline at 800-552-7096. 
Benefits of using the Mandated Reporter Portal include:
Reduced wait time for Mandated Reporters making a report; online offers a quicker, user-friendly option to file a report.
Mandated Reporters create a secure account, which will minimize the amount of time needed in making subsequent reports.
Information entered directly by the Mandated Reporter may be more accurate.
Data from the mandated reporter portal "transmits" the information to VDSS Hotline staff.
VDSS is pleased to make this tool available to all Mandated Reporters across the Commonwealth. We thank you for your partnership in communicating the availability of this tool to support the safety and well-being of Virginia's children, youth, families, and adults.
Please note that if unable to access the website due to security firewalls, access can typically be requested through agency/organization IT departments to whitelist the Portal website (grant access). 
Please do not hesitate to reach out with any questions or feedback via VirginiaOnlineReporting@dss.virginia.gov. 
---
Interested in sharing this information with others?
Follow these quick and easy steps to download a file to your computer:
Click on the graphic.
After it opens, right-click on the graphic and select to save the file.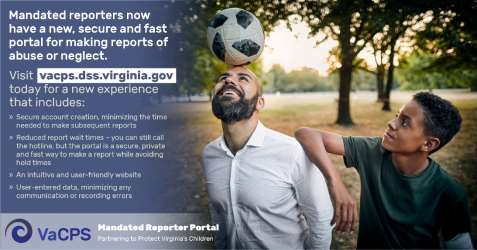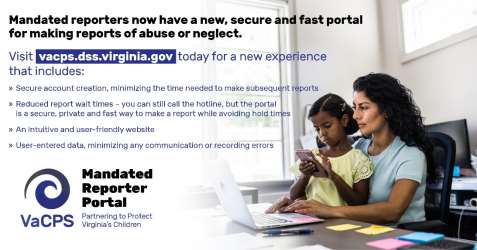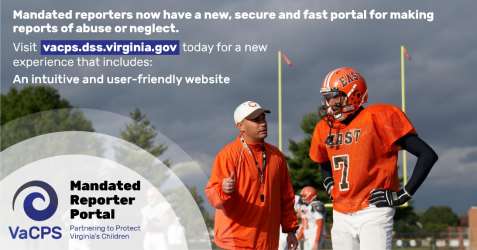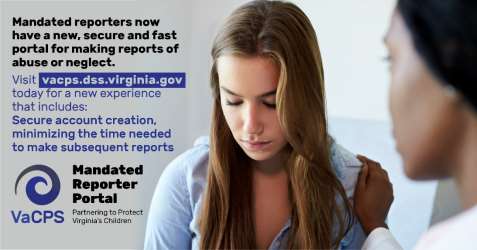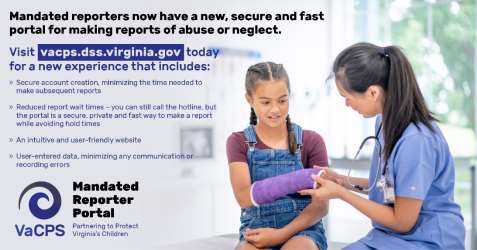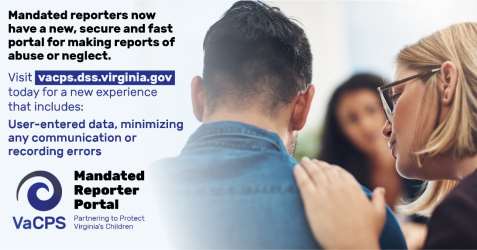 ---
This posting is part of the Department of Family Services' Community Corner where you'll find timely information about upcoming events, parenting and wellness tips, programs and services, and more! Share these helpful posts with your friends and family. Don't miss out on future postings! Sign up today!
For
media inquiries
, contact Department of Family Services' Public Information Officer
Amy Carlini
by
email
, office phone 703-324-7758 or mobile phone 571-355-6672.
---