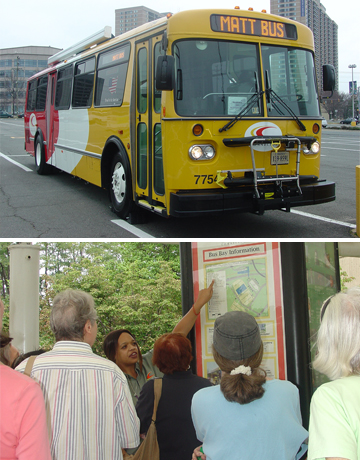 Travel Training for senior citizens supports the independence of our senior population by enhancing awareness of and access to public transportation options offered in our area. Using the public transportation system in Fairfax County is an affordable, reliable and safe means of mobility for adults who are no longer comfortable traveling in their own vehicles.
Travel Training teaches how to:
Plan a trip by bus
Read bus and rail schedules
Pay bus fare
Transfer
Reach specific destinations
Access local transportation resources
The Mobile Accessible Travel Training (MATT) Bus
The MATT Bus is an innovative, hands-on transportation education resource available to Fairfax County older adults (50 and over) for travel training. Human Services Transportation staff will coordinate and lead travel training trips in which seniors will travel by bus and rail to and from a destination of their choice.
During the bus ride, travelers-in-training will learn to:
Identify a bus stop near their residence
Learn to read bus schedules and maps
Pay fares
Signal the driver to stop
And other bus travel skills
The bus will transport the trainees to a local Metrorail station where they will continue their trip on a Metro train and learn to:
Determine Metrorail fares
Purchase Metrorail fare cards
Read the Metrorail system map
Board and Transfer Metrorail trains