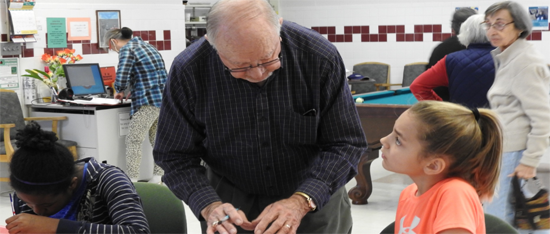 Fairfax County is an excellent place to live, work, and play in large part due to the service provided by community volunteers. At NCS, we seek to create volunteer opportunities that not only fulfill an existing need, but also provide an enriching experience for those who chose to serve. We have a wide variety of service opportunities, including coaches, instructors, receptionists, chaperones, activity facilitators, mentors, office aides, event helpers and more!
Making the choice to serve not only helps strengthen your community, but can also provide opportunities for developing new friendships, gaining valuable experience and training, and experiencing a sense of fulfillment as you serve your neighbors. Volunteering with Neighborhood and Community Services (NCS) is also a great way to fulfill community service hour requirements as well (e.g., school and scouting requirements and more)!
---
Eligibility
Different service opportunities may have specific eligibility requirements; however, all volunteers should meet the following general requirements:
Must attend an NCS Volunteer Orientation.
Must be at least 13 years old.
Must be able to take care of all personal needs.
Must be able to work independently and with a team with minimal supervision.
Must complete a background check.
---
Expectations
We value and rely upon our volunteers to provide valuable (and, in some cases, even critical) service to the residents of Fairfax County. Volunteers, during the time of their service, should reflect the professionalism and courtesy of the Department of Neighborhood and Community Services. Doing so enhances the positive impact you will have in your role and results in greater personal benefit from the experience. In general, we expect all volunteers to:
Act appropriately at all times by following volunteer guidelines and codes of conduct.
Respect those you serve (and those you serve with) and be responsive to their needs and concerns.
Be willing to learn.
Arrive on time and stay the whole time you've committed to stay.
 
---
Get Started!
Go to volunteer.fairfaxcounty.gov.
Set up your Volunteer Profile.
"Search" for an opportunity to volunteer with NCS by using key word search "NCS."
"Apply" for volunteer opportunities that match your interests and talents.
Please attend an NCS Volunteer Orientation.
Pass a criminal background check.