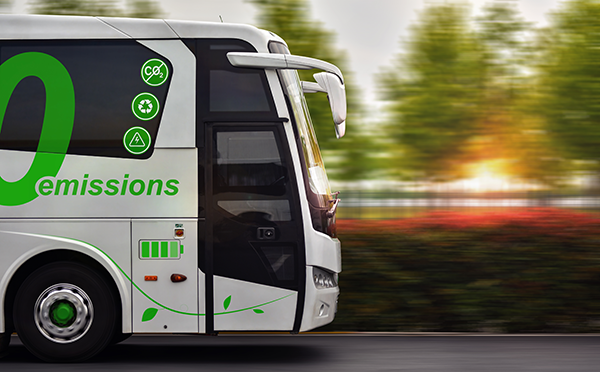 The county will deploy four all-electric Fairfax Connector buses, four solid waste trucks and one medium-duty truck, as well as install electric charging stations for these vehicles.
These demonstration projects will advance the efforts to electrify the county's fleet, helping the county to learn more about operating and maintaining these vehicles.
These pilot projects are funded with more than $4.4 million in state grants.
In a step forward toward a zero-emissions vehicle fleet, Fairfax County will buy new all-electric buses, trash and recycling trucks and a box truck using $4.4 million in state grant funds.
The money will go toward four electric Fairfax Connector buses, four solid waste trucks and one medium-duty truck, as well as installing electric charging stations for these vehicles. These demonstration projects will advance the county's efforts to electrify its fleet, helping officials learn more about operating and maintaining these vehicles.
"To cut carbon emissions we have to reimagine the way in which we travel," said Fairfax County Board of Supervisors Chairman Jeffrey McKay. "As a county, we are already actively moving towards cutting our emissions from our public transit and this will move us closer to our end goal."
The Virginia Department of Environmental Quality awarded the grant funds through its Clean Air Communities Program. This program accelerates transportation electrification to combat climate change and air pollution, and it was established as part of the state's oversight of the Volkswagen Environmental Mitigation Trust.
"In order to meet the county's proposed carbon neutral goal of 2040, it is critical that the county transition its vehicle and bus fleets to non-carbon emitting vehicles as quickly as possible," said Mount Vernon District Supervisor Dan Storck. "With the additional expenses for these new vehicles, and the potential need to replace fleet vehicles prior to their planned life cycles, federal and state funds will be key to the county meeting its goals and protecting our environment."
The state's grant money will go for these three Fairfax County projects:
Fairfax Connector Buses: The Fairfax County Department of Transportation will replace four existing diesel transit buses with new all-electric buses and will install three 150 kW vehicle charging stations at the West Ox bus facility. The state grant funding will cover the difference between the cost of a diesel and an electric transit bus, as well as some of the cost of the charging equipment. These new 40-foot electric buses will be part of an 18-to-24-month demonstration program looking at how zero-emission technology performs in key areas of operations and maintenance. The vehicles will be tested on various transit route types including circulator, rush-hour and express, and will provide service on exiting Fairfax Connector routes in the I-66 corridor. These routes transported more than 225,000 passengers annually, pre-pandemic, and it is estimated that the utilization of the four all-electric buses will save approximately 32,000 gallons of diesel fuel on an annual basis.
Solid Waste: The Department of Public Works and Environmental Services will buy or retrofit four vehicles for solid waste and recycling operations: two rear-loaded, residential trash and recycling trucks and two transfer tractors to take trash from the I-66 transfer station to the waste-to-energy plant. The first truck is anticipated to be on the road this fall with the second truck to delivered next summer, according to public works officials. The transfer trucks are expected to be delivered next fall. Besides reducing harmful emissions, the department estimates these four new vehicles will save 78 percent in fuel and maintenance costs compared to its non-electric trucks.

BYD Motors LLC all-electric refuse truck.

Transport Truck: The Department of Vehicle Services and Department of Procurement and Material Management are partnering to replace a 26-foot, diesel-powered box truck with a new, all-electric version. The project also includes the installation of a 40 kW, Level 2 charging station at the county's logistics center in Springfield where the truck will be based.  As the vehicle's operator, the procurement department will use it to ferry books, supplies and materials between the Fairfax County Public Library's 23 branches five days a week, traveling more than a projected 10,000 miles per year. This new zero-emissions truck will save an estimated 64% in fuel costs and reduce greenhouse gas emissions by 58 percent compared to the existing diesel vehicle. Officials anticipate that it will take about eight months before the truck and charging station will be ready after the grant money is in hand.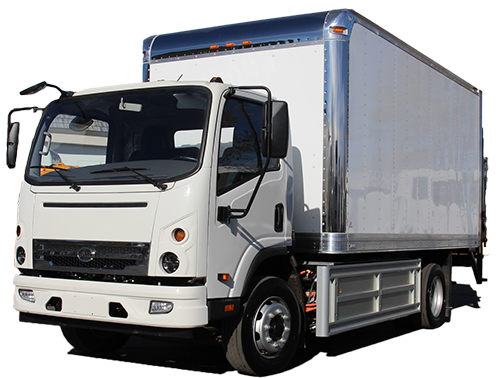 For more information, contact the Fairfax County Office of Public Affairs at 703-324-3189, TTY 711.