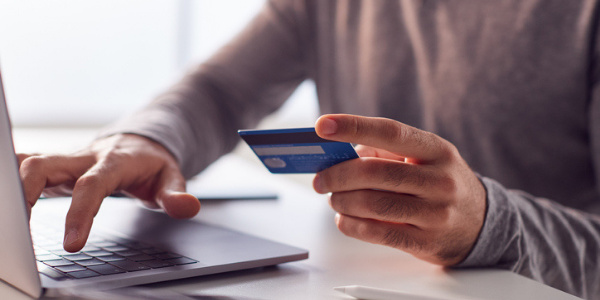 The holiday shopping season is in full swing and scammers are shopping, too.
According to a recent AARP survey, three out of four U.S. consumers have experienced or been targeted by at least one form of fraud that can be tied to the holidays, including end-of-year charitable donation requests (39%), purchasing an item through an online ad (35%) and receiving fake notifications about shipping issues (29%).  
Don't be caught unaware; follow these tips to keep your financial information safe and outsmart would-be criminals. 
1.  Be Smart When Shopping Online
People often promise some sort of great deal if you only pay online first. Be wary of sales that look too good to be true. Do your research and try to make purchases from recognized stores and retailers online. 
Also, pay by credit card when possible. Credit cards give you extra protection for most online purchases and offer benefits like protection for returns and purchases. If unauthorized charges pop up on your statement, you'll be able to dispute them. Check with your issuer for your card's protections.
2.    Use Gift Cards as Gifts, Not as Payments
Gift cards are a scammer's favorite way to steal your money. Anyone who demands that you pay them with a gift card, for any reason, is a scammer. Report gift card scams directly with the card issuer, then report it to the FTC at FTC.gov/Complaint.
3.    Research and Verify Before You Act
With the generous spirit of the holidays, 'tis the season for donations. Make sure your donation doesn't go into the hands of a scammer. If someone calls and asks you to give to a charity, research the charity to make sure it's legitimate. When in doubt about anyone asking for money, consider doing the following:
If someone calls you asking for credit card numbers, say you will be sure to donate and go online or call the organization directly.
Don't use phone numbers listed in letters or email. Instead, call the number you know and ask to be routed to the appropriate person.
Be wary of direct links. Go to the host website and try to find a way to pay or submit information on your own.
4.    Report Suspected Scams
Even though the police deal with thousands of fraud cases annually, they suspect that many instances go unreported. You can help stop criminals and protect others by taking the time to report any suspected scam or fraud case, regardless of circumstances. 
The best way to do this is to use the county's online reporting system called FiCOR. You can also call the Financial Crimes unit at 703-246-7800.
5.    Assist Those Around You
Criminals like to prey on those who appear vulnerable, and often times our older friends, neighbors and loved ones are tagged as easy targets. That's why the county has created the Silver Shield anti-fraud campaign. This initiative helps older adults avoid being scammed by sharing critical information about current scams via local educational events. Look online for a list of tools to help everyone stay free from scams.