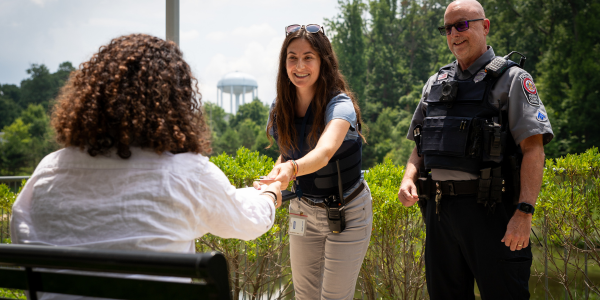 Over the past few decades, a growing number of jurisdictions have adopted law enforcement and mental health collaboration to provide a coordinated response to individuals experiencing a mental health crisis. Fairfax County's Co-Responder Program is a partnership between the Police Department and the Fairfax-Falls Church Community Services Board (CSB).
Fairfax County employs co-responder teams, composed of one Crisis Intervention Team (CIT) trained police officer and one crisis intervention specialist who provide immediate onsite support to individuals experiencing a behavioral health crisis and connect them with countywide and community-based resources as needed. All team members are experienced working with community members in crisis and receive advance-level training, including intensive scenario-based experience. 
Co-Responder Program Goals
The Co-Responder Program goals include:
Increase timely on-scene assessment and de-escalation of behavioral health crises.
Increase linkages to ongoing behavioral health services and supports.
Decrease involvement in the criminal justice system and arrests involving behavioral health.
Decrease need for emergency custody orders/temporary detention orders, as appropriate.
Decrease visits to emergency departments and address capacity issues in psychiatric hospitals by providing less restrictive community-based alternatives for people in crisis.
Enhance relationships between law enforcement and community members.
Currently two co-responder teams operate in the community seven days a week from noon to midnight, and one team operates three days a week from 2 to 11 p.m. A fourth team will launch in the fall.
"The Fairfax County Police Department and Community Services Board have a proud history of working together to serve our community members," said Chief of Police Kevin Davis. "Our relationship is a model for other police departments and the country to follow. I look forward to seeing how this impactful program will continue to evolve as we identify the ways in which we can assist our community in times of crisis."
Positive Outcomes
As of May 2023, the co-responder team model has resulted in the following positive outcomes:
Over 1100 responses.
Over 50% of calls were resolved in the field with no further action needed.
Close to a third were diverted from potential arrest and/or hospitalization.
26% of individuals were linked to a higher level of care.
"The collaboration between the Fairfax County Police Department (FCPD) and Fairfax Falls Church Community Services Board has been invaluable in serving individuals with behavioral health challenges. Having this partnership has allowed FCPD and the CSB to provide community-based first responder behavioral health services to individuals experiencing a mental health crisis.  As the program evolves, we will continue to refine our ability to analyze data on the Co-Responder Program, assess ongoing community needs and facilitate continuous quality improvements to maximize our ability to provide this service to the right person when it is most needed." shared, Daryl Washington, CSB executive director.
Mental Health Resources
Help is a phone call away. If you need support for a behavioral health issue, call the Community Services Board at 703-383-8500. You can also call the Regional Crisis Call Center at 703-527-4077, or text 85511.
CSB also offers in-person and online training courses and tools to all residents of Fairfax County and the cities of Falls Church and Fairfax: