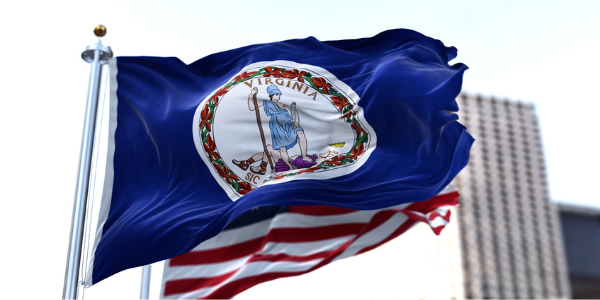 Most laws that were passed by the General Assembly during the 2023 legislative session take effect in Virginia on Saturday, July 1, 2023. A few are highlighted below with links that provide additional details.
Pedestrian Safety and Transportation
Drivers must stop for pedestrians at clearly marked crosswalks, any regular pedestrian crossings or any intersections where the speed limit is 35 miles per hour or less. In 2020, the General Assembly passed legislation requiring drivers in Virginia to stop for pedestrians in these areas, stating "yield" now means "stop". This law clarifies this language and makes it clear that localities authorized to install such signs can do so, helping to avoid confusion among drivers (who are required to stop for pedestrians under state law, but are confronted by street signs that continue to say "yield"). SB 1069
The "Move Over" law was expanded so drivers must now change lanes or slow down, when possible, for all stopped vehicles on the side of a road with flashing lights or flares. HB 1932
This law adds contractors to the list of those able to act on behalf of the county to remove illegal signs from the state-maintained right-of-way. HB 1587
Background Checks for School Staff
These laws were intended to fix communication gaps in the current background check reporting system. The bills require each division superintendent to annually designate an employee as the division safety official and provide updated contact information to the Virginia Center for School and Campus Safety. This enables information about arrests and/or convictions of individuals between jurisdictions in the Commonwealth, as well as across state lines. SB 821
HB 1859 updates the current code to reflect required language for implementing the Virginia Rap Back program. Fairfax County supported the bills, with ongoing state funding, to ensure the safety of vulnerable populations throughout the commonwealth. 
Health and Human Services
This law requires hotel managers and staff to complete online training on human trafficking within six months of being employed by a hotel and once every two years thereafter.  Although the law was effective Jan. 1, 2023, the Fairfax County Health Department will begin enforcing these requirements starting July 1. HB 258
Landlords who own four or more units will have to provide written notice of a rent increase to their tenants at least 60 days in advance. HB 1702
This law amends the Family and Individual Supports, Community Living, and Building Independence waivers to provide greater financial flexibility to individuals with developmental disabilities who are receiving waiver services. HB 1963
Land Use
This law creates a new cause of action for a person negatively affected by some type of local government enforcement action (for example zoning enforcement actions or decisions) if the local government's action willfully disregards the law or regulations. In court, a case like this requires a high standard of proof, but if the person who is negatively affected is successful in court, they will be entitled to compensatory damages and may be awarded attorney's fees and costs. SB 1495
Jury Duty
Jury duty allowance has been increased from $30 to $50 per day. HB 2317
Online Age Verification
This law requires pornography websites to implement an age verification system to access their content. SB 1515
False 911 Calls
This new law will provide penalties for false emergency communication to emergency personnel that leads to a response a Class 1 misdemeanor in Virginia, which comes with up to a year in jail and a $2,500 fine. HB 1572
Temporary Detention Orders
This law permits the director of a facility where a person is awaiting transport to the facility of temporary detention pursuant to a temporary detention order to release the person if an employee or a designee of the local community services board, in consultation with the person's treating physician, conducts an evaluation, determines that the person no longer meets commitment criteria, authorizes the release of the person and provides a discharge plan. HB 1976
Military Members
This law creates the Virginia National Guard Passport, which provides free entry to all 41 state parks for active Virginia National Guard members and their immediate family members traveling in the same vehicle. HB 1388
Virginia's Official Pony
Lawmakers passed a bill to make the Chincoteague Pony – from the commonwealth's Chincoteague Island — Virginia's official pony. HB 1951 and SB 1478