Fairfax County's Solid Waste Management Program (SWMP) accepts food scraps for composting at two County facilities: the I-95 Landfill Complex and the I-66 Transfer Station. These sites are open seven days a week, Monday - Friday from 7 a.m. to 5 p.m. and Saturday and Sunday from 7 a.m. - 4 p.m. You can drop off your food scraps into one of the bins located in the designated drop-off areas (example shown below).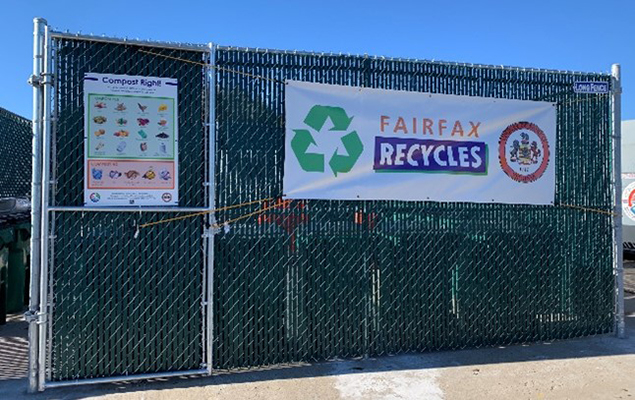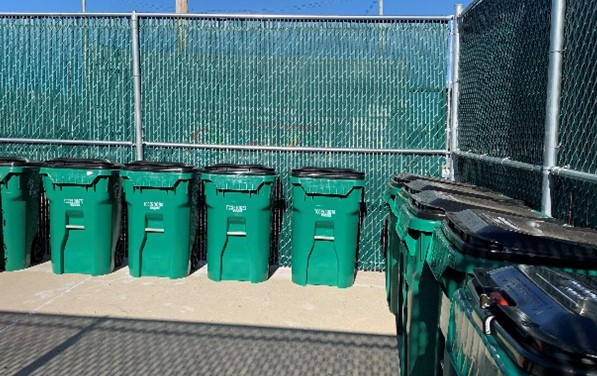 Due to a successful pilot program last year, the Fairfax County Parks Authority (FCPA) was able to bring composting to all Farmers Market locations! You can drop off food scraps for composting during market hours. Please visit the Fairfax County Farmers Market webpage to find a Farmers Market near you. *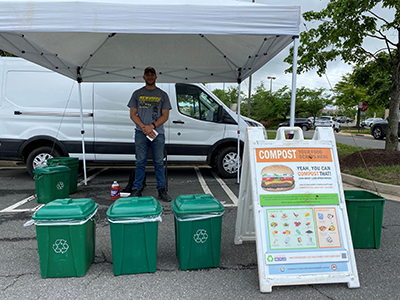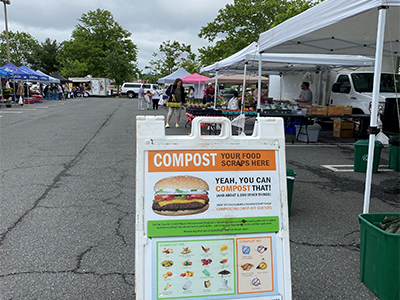 * The Farmers Markets do not accept yard clippings. If you'd like to compost your yard waste, please drop it off at the I-95 Landfill Complex or the I-66 Transfer Station.
How Does It Work?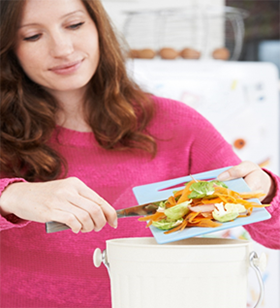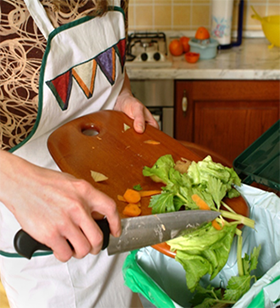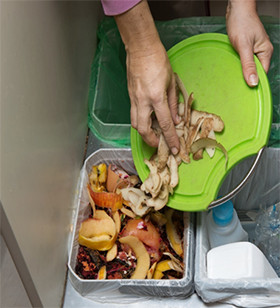 While you're cooking dinner, scrape the trimmings from your vegetables or pieces of meat into your countertop container. This could be potato peels, bones, or egg shells. If you had coffee or tea, the grounds or the tea bag can go in too. After dinner, you can scrape whatever's left on you plate into the container. You may choose to keep your food waste in your fridge or freezer before you're ready to take it to the drop-off site. Or you may choose to use a sealed countertop container. Do whatever works for you.
When you've accumulated a good amount of food waste, it's time to drop it off at the location that's most convenient for you. If you lined the bucket with a compostable liner, you can throw that in too. If you used a regular plastic bag, you'll need to empty the food scraps into the container and throw away the plastic bag separately. Rinse the bucket out when you get home. And pat yourself on the back – you just made a difference.
Please repurpose reusable, or compostable containers, bags, boxes, or bins for the purpose of transporting your food scraps to the drop-off sites. For more information, or general inquiries regarding this program, contact the Outreach Team at 703-324-5230.
The graphic below should tell you everything you need to know about what you can, and cannot, place into the food waste bins. It is important to keep contaminants like plastic bags, pet waste, and wrappers out of the bin.