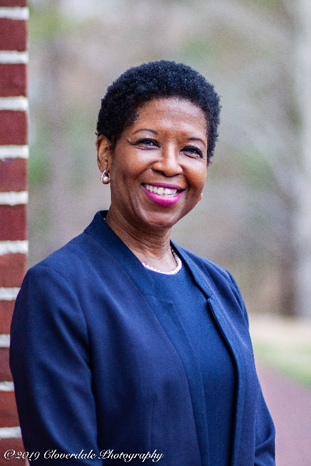 Evelyn S. Spain
Secretary
Evelyn S. Spain was appointed to the Planning Commission by the Board of Supervisors in January 2020 to represent the Sully District. She also serves as the Planning Commission's Secretary. Her term will expire in December 2023.
In July 2021, Commissioner Spain was appointed to Chair of the Confederate Names Task Force by the Board of Supervisors.  The Task Force is composed of residents, civic organizations, homeowner associations, faith groups, historical groups and the business community.
Commissioner Spain is the Founder and President of The Foundation for Eleanora R. Spratt Scholarships, a nonprofit scholarship program that provides funding for economically challenged students. She is currently a Quality Assurance Manager at a cloud based small business in Fall Church, Virginia.
Commissioner Spain has been active with several local community groups in Fairfax County. She served as the President of Stone Middle School PTSA and as Co-President of the Minority Achievement Gap Committee at Westfield High School. As a member of the 2014-2018 Executive Committee of the Fairfax County NAACP, she helped the branch to win the 2018 Thalheimer Award. The Thalheimer Award is NAACP's top award given to branches and units for outstanding achievements. As Second Vice President and Community Coordinator of the Fairfax County NAACP, Commissioner Spain provided support and guidance to community outreach programs, including the Political Action Committee's Candidate Forums. The Candidate Forum is one of the most essential programs that is used to keep the Fairfax County community and NAACP Branch membership informed of important local issues and candidates for office. As a co-leader of the Freedom Fund committee, she conducted successful fundraising programs and fostered partnerships with like-minded organizations. Proceeds from Freedom Fund events were used to support branch activities and facilitated the creation and growth of new programs. Commissioner Spain served as a Board Member for the Fairfax-Falls Church Community Services Board.
In September of 2021, Commissioner Spain was selected to be the Chair of the Confederate Names Task Force (CNTF).  The CNTF represented residents and business owners from each district of Fairfax County.  The purpose of the CNTF was to address the concern for equity throughout the county by proposing to the Board of Supervisors possible names changes of streets named after Confederate Generals of the Civil War.
Commissioner Spain is certified in Diversity, Equity and Inclusion.  She received an MBA from American Intercontinental University, graduating with Honors and received her B.A. from Bradley University.  Commissioner Spain is a certified Capability Maturity Model Integration Team Appraiser and a Lean Six Sigma Green Belt. She is also a graduate of the University of Virginia Sorensen Institute for Political Leadership Program (PLP), Class of 2019.
To contact Commissioner Spain, please utilize the contact form at this link.