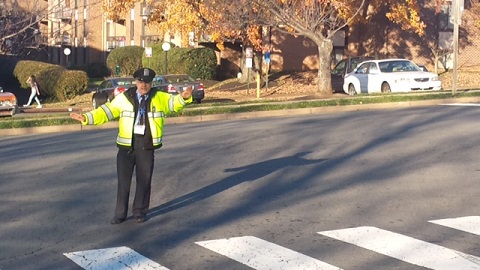 The mission of the crossing guard is to create the safest environment possible for school children and other residents as they walk, or bike, to and from school.
There are 200 public schools and centers in Fairfax County.  These include 146 elementary schools, 23 middle and secondary schools, 22 high schools and 9 alternative high schools and special education centers.
Control traffic to ensure safety of students to and from school
Monitor operations of flashing lights during opening and closing times and report malfunctions
Report hazardous traffic conditions at student crossings
$14.96 - $24.94/hour
Pay plan S, S-10
Range can be found on Department of Human Resources Classification & Compensations page
Uniforms and training are provided
Annual and sick leave are earned and accrued according to hours worked
Health plan enrollment optional if employee has more than two crossing
Mileage reimbursed
Depending on district station needs and scheduled times of crossing, Crossing Guards work between 10 to 80 hours per pay period
Most crossing guards work 20 to 40 hours per pay period (that is one to two crossing per day)
Crossing guards operate on the Fairfax County Public School calendar.  The typical school year is 40 weeks, operating 5 days per week
High school graduate, or state-issued GED
Knowledge of traffic regulations

Review applicable Virginia Sate Code HERE

Ability and willingness to work in inclement weather
Ability to work with children
Ability to follow written and oral instructions
Courteous to children and families
Must have good hearing and vision
Subject to Child Protective Services check and criminal background investigation
to see the full position description, subscribe for alerts to job openings, and/or begin the application process, click HERE.
Fairfax County Government is an Equal Opportunity Employer.  Reasonable accommodations are available to persons with disabilities during application and/or interview processes per the Americans with Disabilities Act.  Contact 703-324-4900 for assistance.  Minorities and people with disabilities are encouraged to apply.  EEO/AA/TTY.
     For more information contact:
Personnel Resources Division - 703-246-7560