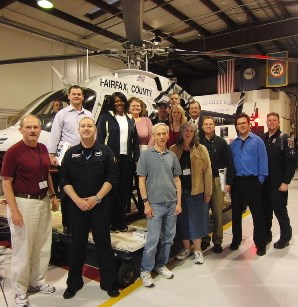 Interested in learning more about local law enforcement? The Community Police Academy (formerly Citizens Police Academy) is designed to give participants a glimpse behind the badge and to provide information about training, policies, and the many units and divisions within the Fairfax County Police Department.
We are now accepting applications for the Spring 2022 session that will meet from March 17 to May 21, 2022 and the Fall 2022 session that will meet from September 15 to November 19, 2022.
Students will learn about
Police training (including weapons and driving)
Neighborhood Patrol
Crime Scene Investigation
Use of Force
Traffic Stops
Internal Affairs
Police helicopter and its capabilities
SWAT
Department of Public Safety Communications (911 call center)
And much more...
Classes
Classes are held on ten consecutive Thursday nights, from 6:30 p.m. to 10:00 p.m. Graduation is held on a Saturday from 8:00 a.m. to 12:30 p.m. Classes rotate to various police department facilities around Fairfax County. Due to the popularity of the program, all participants are required to attend at eight out of ten classes in order to successfully graduate.
Requirements
Must be at least 18 years of age
Live or work in Fairfax County
Must clear a review of your criminal record and police contact history prior to acceptance
Provide your own transportation
The Fairfax County Police Department seeks people from a wide variety of cultures and backgrounds when selecting participants for its Community Police Academy. Candidates from different ethnicities, professions, cultural backgrounds, orientations, age groups, and communities throughout Fairfax County are encouraged to apply in order to enrich class discussions and strengthen community relationships.
This program is not an accredited certification course to become a sworn police officer. For information regarding employment as a police officer or about the paid police academy, please visit Join Our Team page.
For more information, please call (703) 246-4315CPA@fairfaxcounty.gov or e-mail us at