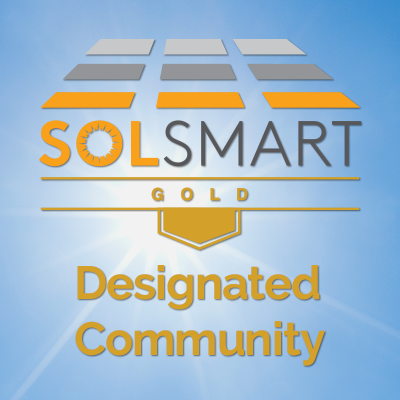 Fairfax County is leading the way in solar energy in the state, becoming the first municipality in Virginia to receive a Gold designation from the national SolSmart program. SolSmart recognized Fairfax County earlier this year with Silver status for taking bold action to encourage solar energy growth and remove obstacles to solar development. The new Gold designation comes after the Board of Supervisors voted earlier this summer to amend the zoning ordinance by explicitly allowing residential and non-residential buildings to add solar as an accessory use.
"We are receiving this Gold designation from SolSmart because the Board of Supervisors continues to invest in the county's solar energy programs," said Kambiz Agazi, director of the Office of Environmental and Energy Coordination. "We are excited to continue working in collaboration with Fairfax County's residents and businesses to create a greener and more energy efficient community one building at a time."
For companies looking to expand, a SolSmart Gold designation is a signal that Fairfax County is open for solar business.
To receive this top designation, local governments must put in place processes to make it faster, easier and less expensive to install a solar energy system. This includes streamlining permitting and zoning rules, as well as offering economic incentives.
Fairfax County offers:
No-fee permitting for residential or commercial solar systems.
Same-day building permits for solar systems .
Tax exemptions for homeowners and businesses who install solar equipment , including solar panels, solar water heating systems and passive solar energy systems.
Discounted solar systems for homeowners and businesses through Solarize Fairfax County , which during the past three years has resulted in 2,263 solar assessments that led to 142 solar installations totaling 1,135 kW.
$5,000 grants for homeowners associations' energy conservation projects like solar through the Northern Virginia Soil and Water Conservation District.
A solar webpage that summarizes solar resourcs, incentives, and opportunities in the county.     
The programs and incentives are offered through a partnership between multiple county agencies, including the Department of Land Development Services, Department of Planning and Development, Department of Tax Administration and Office of Environmental and Energy Coordination.
The county's solar incentives and programs complement its overall Operational Energy Strategy that aims to reduce local government energy consumption through energy efficiency, renewable energy and innovative technologies. As part of this strategy, Fairfax County Government and Fairfax County Public Schools are planning to install solar panels on multiple facilities . The county also recently allocated $2.5 million for electric vehicle charging stations and LED streetlights .
SolSmart uses objective criteria to award communities points based on the actions they take to reduce barriers to solar energy development. The non-profit is led by The Solar Foundation and the International City/County Management Association and funded by the U.S. Department of Energy Solar Energy Technologies Office.
# # #