Fairfax County's I-95 landfill in Lorton may become home to the longest indoor ski slope in North America and one of the longest in the world.
Alpine-X submitted a public-private partnership proposal to the county to build a 450,000- square-foot snow sports facility with an expected 1,700-foot ski slope. The facility's summit would reach an altitude of about 280 feet.
With this proposal in hand, the county will begin a formal procurement process to evaluate it, including seeking competing bids for the site.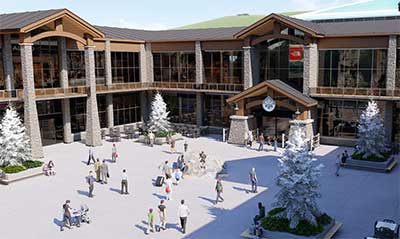 "When Alpine-X approached me nearly two years ago through my work with the Sports Tourism Task Force with an innovative way to utilize the elevation of the county-owned landfill in Lorton, I was eager to help," said Springfield District Supervisor Pat Herrity.  "The fiscal, sports and community benefits of this opportunity are numerous, including new jobs, exciting new snow sports opportunities, the potential for high school ski teams, new hotel and restaurant amenities for the South County area, premier national competitions and financial benefits to our taxpayers from the lease, sales tax and hotel tax revenue streams. I am extremely excited to partner with Alpine-X to develop a unique downhill snow sports destination right here in Fairfax County."
While the company considered several other locations in the D.C. region, the landfill was its top choice, according to the proposal.
Called Fairfax Peak, the proposed snow sports complex may include:
Multiple ski slopes at approximately a 20-degree angle, including a slope compliant with the Fédération Internationale de Ski's standards ensuring it can be used for competitions.
A specially designed area for skiing and snowboarding with a variety of ramps, jumps, rails, boxes and other features, capable for use in national snowboarding and freestyle skiing competitions.
A bunny slope for beginners, snow tubing run and area for skiers and snowboarders to perform tricks.
Restaurants, ski shop and sky bar and terrace at the summit.
A 100-plus room luxury hotel at the base of the indoor snow facility.
A gravity-powered, mountain coaster that will slide from the summit to Occoquan Regional Park.
A gondala to ferry riders from Occoquan Regional Park and the facility's base to the summit.
The proposal also envisions other amenities that could be added in the future, including a water park, a "gravity ropes course" and passive recreation areas. SnowWorld has signed a confidential agreement with the Northern Virginia Regional Park Authority to possibly operate or own some of these facilities.
"When Alpine-X came to me in 2016 with a proposal to build an indoor ski facility in Lorton, I knew this could be a great opportunity for the county and the region," said Mount Vernon District Supervisor Dan Storck. "I encouraged the Alpine-X team and county leadership to work together with our office to determine the viability of this project and the possibility of repurposing a closed landfill."
The complex would contribute to Laurel Hill's development as a regional recreation hub and arts destination. The facility would complement the existing equestrian center, Laurel Hill Golf Course and Workhouse Arts Center.
"The efforts we are leading with the Lorton 2040 Visioning and revitalization of Richmond Highway, combined with entrepreneurial partners like Alpine-X, will culminate in Lorton becoming a 21st century destination for sports, arts, entertainment and skilled fun!" Storck said.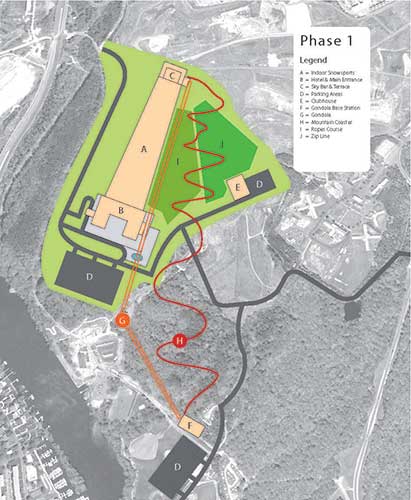 As a public-private partnership, the county would lease its land to Alpine-X, and the company would build, own and operate its facility. This lease would be negotiated separately if the proposal is ultimately accepted.
County leaders say that Fairfax Peak could produce significant economic and recreational benefits.
Before Alpine-X submitted its proposal, Visit Fairfax estimated the project's economic impact as part of the county's Sports Tourism report. They projected that the complex could draw as many as 400,000 visitors per year, generating sales, hotel and property taxes for the county.
The firm included a confidential market analysis as part of its proposal, and it also intends to commission an additional, third-party, economic study for its entire proposed development.
Besides strengthening Laurel Hill as a recreational destination, Fairfax Peak would allow local schools to add ski teams. Alpine-X proposes making its facility available to law enforcement and military for cold-weather and snow training.
The project would be environmentally sustainable as well. Fairfax Peak plans to incorporate green and energy efficient technologies in its buildings. For example, the company says it will collaborate with Covanta's private waste-to-energy plant to capture and re-use steam; reuse gray water and use solar energy. The facility also will open its doors to local colleges and universities that wish to test new environmental technologies.
County officials say they will evaluate the proposal to determine if there are any impacts to future solar projects at the I-95 landfill complex. There is an ongoing study to look at the relationship between the two projects.
If Alpine-X's proposal is accepted, the company projects that it could complete the project's first phase in 36 to 48 months.
The project will be contingent on the company successfully achieving any required land use entitlements to allow for the proposed uses. This process includes opportunities for community input, including public hearings and ultimately the Board of Supervisors' approval.
#  #  #