Laurel Hill
Park Hours: Dawn to dusk
Laurel Hill Park has open spaces, historical buildings, modern facilities and trails. The equestrian facilities are located on the site of the old Lorton Reformatory, on land that was once a dairy farm for the prison. The area is a mix of historical fabric and modern development. The Master Plan for the park calls for  possible additional equestrian facilities as funding is available.
There is no staff onsite. Staffing for Laurel Hill Park for equestrian matters is handled by the Equestrian and Maintenance Manager at Frying Pan Farm Park (703-437-9101) and FCPA's Area Maintenance staff (703-324-8594). Other park oversight is handled by dedicated volunteer groups such as Fairfax4Horses and Clifton Horse Society.
Fees/Reservations/Permits
There is no cost for daily use. Reservations for daily use are not required. Laurel Hill equestrian facilities are open dawn to dusk except for regularly scheduled maintenance, private rentals, horse shows, or inclement weather conditions.  
The facilities are available for private lessons, horse schooling, riding practice and other fee-based activities by permit only.
Payment is due by the date on the permit.
Facilities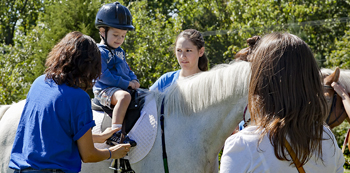 Laurel Hill's equestrian facilities include a 200' x 250' multi-use, outdoor riding ring with all-weather footing, stadium jumps and dressage markers. Ring equipment is maintained by Fairfax4Horses and the Park Authority. It is open for public use. The riding ring sits next to a network of multi-use trails than run for more than 5½ miles. The trails are open to horses, bicycles and pedestrians. The parking lot is gravel except for two paved ADA spaces.
9500 Furnace Road
Lorton, VA, 22079